FreeBSD is an Unix-like, advanced operating system that can be installed in modern Servers, Desktops, Laptops and embedded platforms. It is the direct descendant of BSD Unix and of course it is free. The first version of FreeBSD was released in 1993, and today it is the most widely used open source BSD operating system. FreeBSD is licensed under permissive BSD license. In this tutorial, we will see how to install FreeBSD 10.2.
Install FreeBSD 10.2
For the purpose of this tutorial, I will be using the following test machine to install FreeBSD 10.2.
Hostname: freebsd.ostechnix.local
IP Address: 192.168.1.103/24
Hard disk size: 20 GB
Memory: 1 GB
Let us start the installation. Download the latest FreeBSD version from here. Create a bootable DVD or USB drive using any one of the tools:
And then boot up your system using the installation media.
You will see the FreeBSD installer menu. press 1 (number one) or press Enter to start the installation.
Once the boot is complete, you will see the following welcome message. You have three options here:
Press Enter to install FreeBSD on your hard drive.
Select Shell and press to enter into command line mode. In commend line mode, you can partition the hard drives as per your choice before installing FreeBSD on it.
The third option, Live CD will let you to try the live FreeBSD system without installing it.
Let us go with the default option, i.e. Install. Press Enter to select the default option.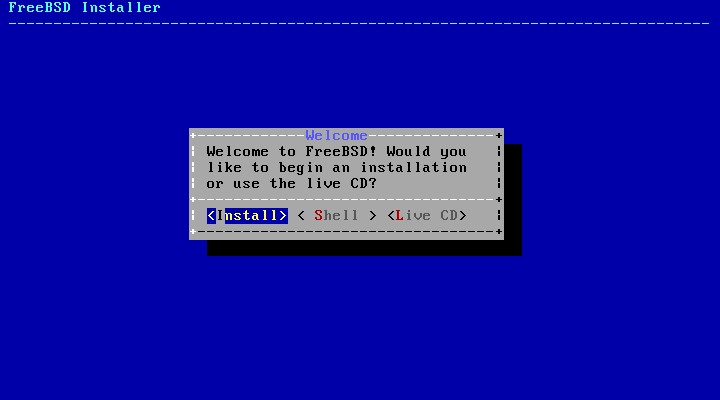 Select your Keymap. I go with the default selection.
Enter a hostname for your system.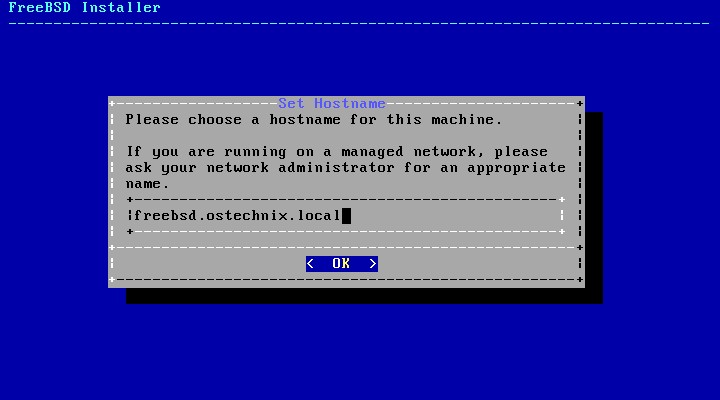 Select the system components to install.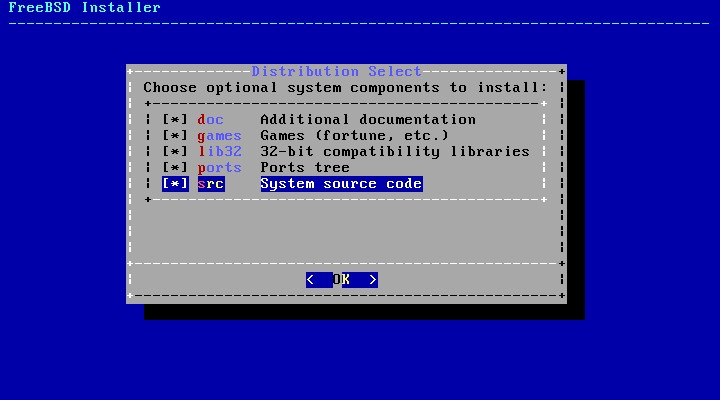 Next we need to partition our hard disk to install FreeBSD. You can either proceed with default option, Auto (UFS), or Manual partition method.
I would like to proceed with automatic partition, so I selected first option i.e Auto (UFS).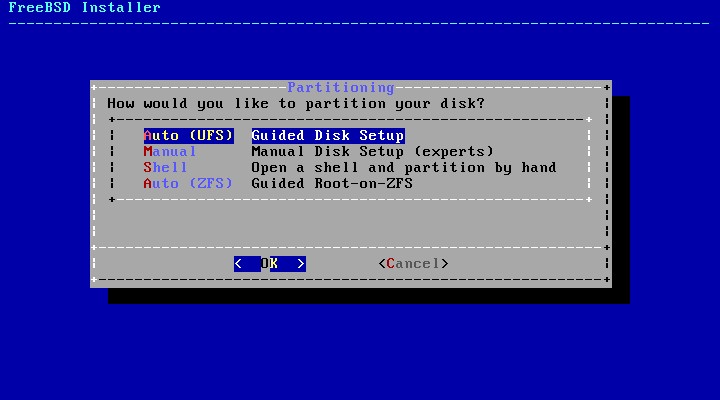 Choose Entire Disk and press Enter.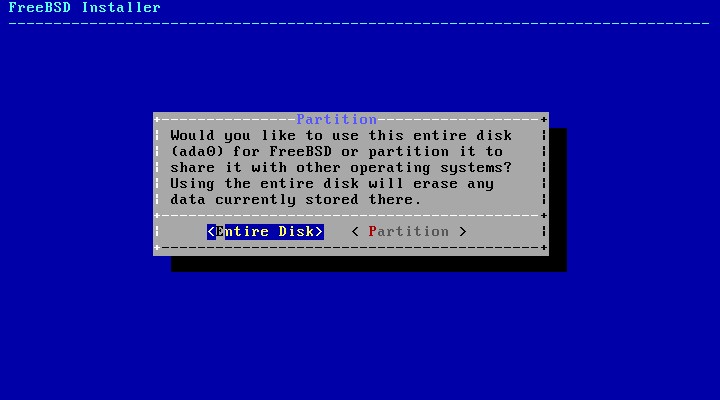 Select partition scheme for the drive and press Enter. I go with the default selection.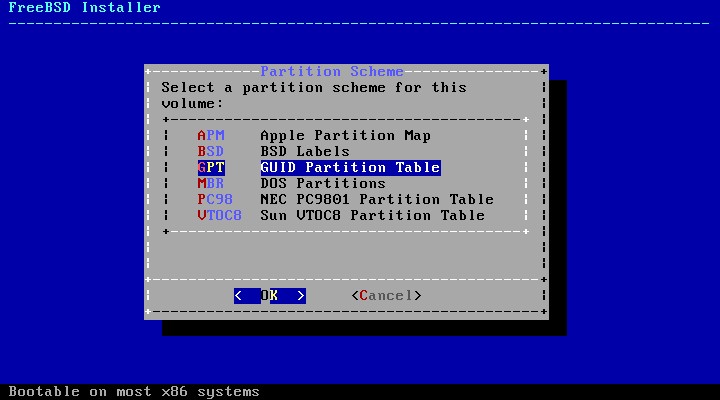 Review the partition sizes. Once you're OK with the partition size, select Finish and press Enter.
Click Commit to confirm the partition setup and press Enter to save the changes.
FreeBSD installation process will start now.
Once the installation is complete, you'll be asked to change/set the root user password.
Next select your Network interface card to configure Network.
Select Yes to configure IPv4 for the interface.
Here we have to setup the IP address for the network card. If you have DHCP server, Select Yes to enable DHCP for this network interface. If you don't have DHCP server, select No and enter the IP address, subnet, network mask manually.
I do not have DHCP server in my network, hence I selected No.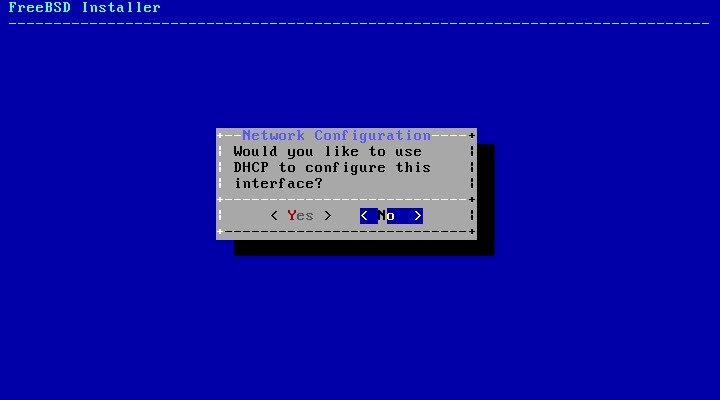 Enter the IP address, subnet, and gateway etc.
I don't use IPv6, so I selected No.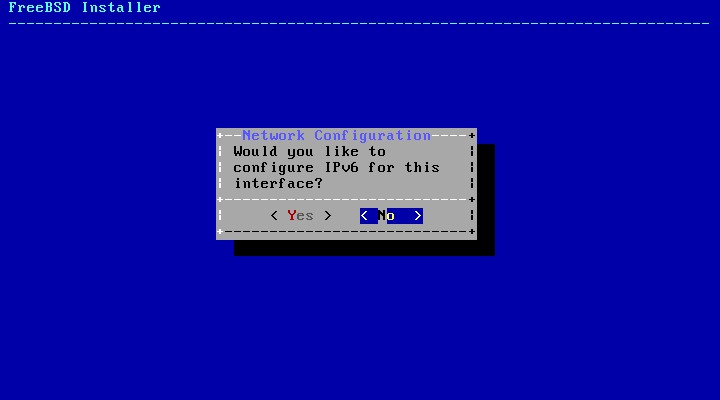 Next, enter DNS server IP.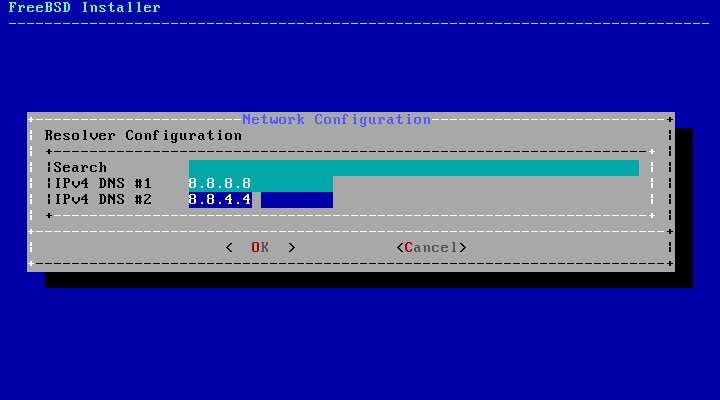 Select No to select your default Time zone.
Select your Region. For me, it's Asia.
Select your Country, for example India.
Select Yes to confirm and press Enter to continue.
Next, select the list of services you would like to be started at every boot.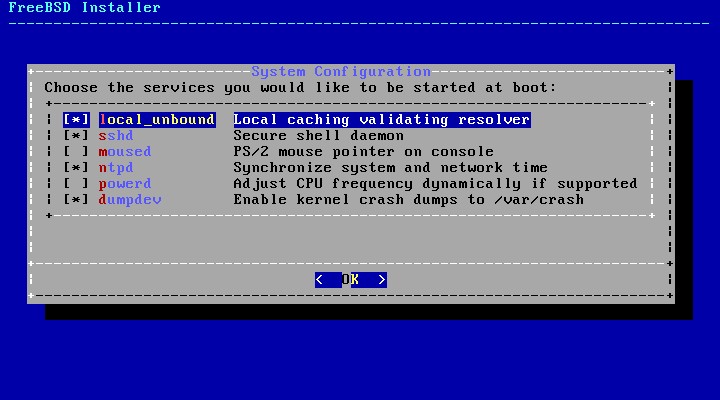 We need to create a normal user for regular computing. Select Yes and press Enter.
Enter the details of the new user.
Type Yes to create the new user.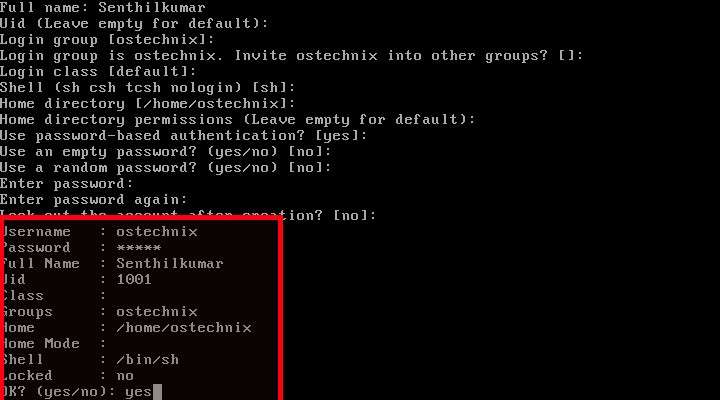 Similarly, you can create as many users as you want. For me, just one user is enough, so I entered No to continue.
We have reached the final stage. Select Exit and press Enter to apply the configuration and exit the FreeBSD installer.
Congratulations! FreeBSD installation is completed. The installer will ask you to make any final changes before exiting the installer wizard. If you want to change anything, select Yes, else select No and press Enter to complete the installation.
Finally remove the installation media and click Reboot.
After rebooting, enter the username and password to login to your newly installed FreeBSD system.
FreeBSD Post installation
Like any other operating systems, it is recommended to update FreeBSD after installing it.
To do so, run:
freebsd-update fetch install
Add the normal user to perform administrative tasks using sudo.
To do so, install sudo package with command:
pkg install sudo
Then add the normal user (Ex. ostechnix in our case) to the sudoers list.
To do so, run:
visudo
Add the following line:
ostechnix ALL=(ALL) ALL
Save and close the file. Now the user ostechnix can able to perform administrative commands with prefix sudo.
That's it. Start using your FreeBSD server.
Refer our next article about installing KDE desktop in FreeBSD.
We will be continuing to publish more tutorials about FreeBSD and other Unix-like operating systems in future. Stay tuned with us.
Resource: