Important update:
Aptik is no longer free. It is now paid application.
Today, we will be discussing an important and useful topic that describes how to migrate system settings and data from an old system to a newly installed Ubuntu system. Even though upgrading to new Ubuntu system seems fairly easy, some of you still prefer fresh installation. However, we have to spend few hours to make a perfect Ubuntu system after a fresh install for day-to-day usage. Not anymore! Meet Aptik, a simple and useful utility that helps you to migrate your old Ubuntu system's settings and data to a newly installed system with a single click.
Aptik will backup the following items:
System's settings,
Old PPAs,
Software packages,
Application settings,
Themes,
Mount entries,
Users/groups,
Home directory data
Scheduled tasks
All items can be backed-up/restored either individually or all at once by single click. And, of course, you can restore them to your newly installed Ubuntu system without much hassle. Just backup all items to any external drive using Aptik, and format the system, and install Ubuntu, finally migrate all settings and data to the newly installed system. Sounds good, isn't it? Aptik will not eliminate all the work that needs to be done after a fresh Ubuntu installation, but it will reduce it greatly.
Migrate System Settings And Data From Old System To Newly Installed Ubuntu System Using Aptik
Aptik will work on all Ubuntu-based systems such as Linux Mint, Elementary OS etc. Aptik developer has made a PPA to ease the installation. Run the following commands one by one to install Aptik on your Ubuntu system.
$ sudo apt-add-repository -y ppa:teejee2008/ppa

$ sudo apt-get update

$ sudo apt-get install aptik
Once installed, launch Aptik either from Menu or Unity Dash.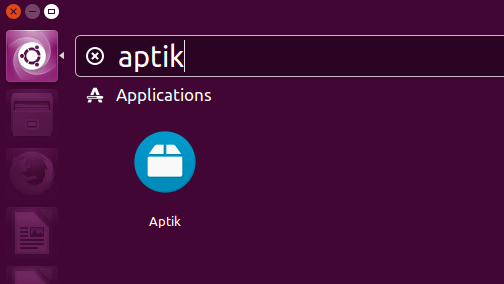 Here it is how default interface of Aptik looks like.
As you see in the above screenshot, the interface of Aptik is very user-friendly. Even a non-Linux user can easily understand how to use it.
To backup an item, first select the backup location.
The destination directory could any local folder or any external drive. After selecting the destination, just click on Backup button. In the next window, Aptik will display the list of items as shown in the screenshot below. Click Backup button again. Aptik will start to backup the selected items and save them in the destination directory.
Want to backup all items at once? Just click on One-click backup button on the bottom.
You can define which items should be included in the backup and which items should be restored from the One-Click settings button.
Likewise, you can either restore a single item by clicking on the Restore button right next to the each item or all at once by clicking on the One-click Restore button on the bottom.
---
Suggested Read:
---
Conclusion
Aptik is a must-have utility for all Ubuntu-based users. You don't need to spend hours to install packages, add PPAs, user settings, systems settings of your old system. Just backup them using Aptik, and restore them back after installing Ubuntu. Aptik worked pretty well as it advertised. Give it a try, you won't be disappointed.
Resource: