Installing Arch Linux is not a piece of cake for everyone, especially for the newbies. Well, not anymore. We have already posted a guide about Arch Anywhere. It is a simple, easy-to-follow graphical installer script that allows you to install a fully functional, custom Arch Linux system with graphical desktop environment and extra software without much hassle. Like Arch Anywhere, there is another installer script is available on the market. Meet Revenge installer, an yet another graphical installer that helps you to easily install Arch Linux with GUI and other useful software. I don't know why the developer has chosen this name. It seems a weird name for a Linux distribution. But this script just worked fine and does exactly what it says.
Update: Revenge installer is renamed to Zen installer.
In this tutorial, we will see how to install fully functional Arch Linux with Cinnamon desktop environment.
Installing Arch Linux using Revenge Installer
Download the latest Revenge Installer version from the link given below.
Once downloaded, make a bootable media (either USB or CD). If you are intended to use USB, try Etcher tool. It will help you to make a bootable USB/SD card in minutes.
Boot your system with newly created bootable media. You will be greeted with the following screen. Choose "Boot Revenge installer" and hit Enter.
Make sure you have connected with Internet. If you want to connect via wifi, you may click the network icon on the top right corner. If you are using wired connection, Network manager should automatically detect it and connect to the Internet. Once connected to the Internet, click "Yes" To continue.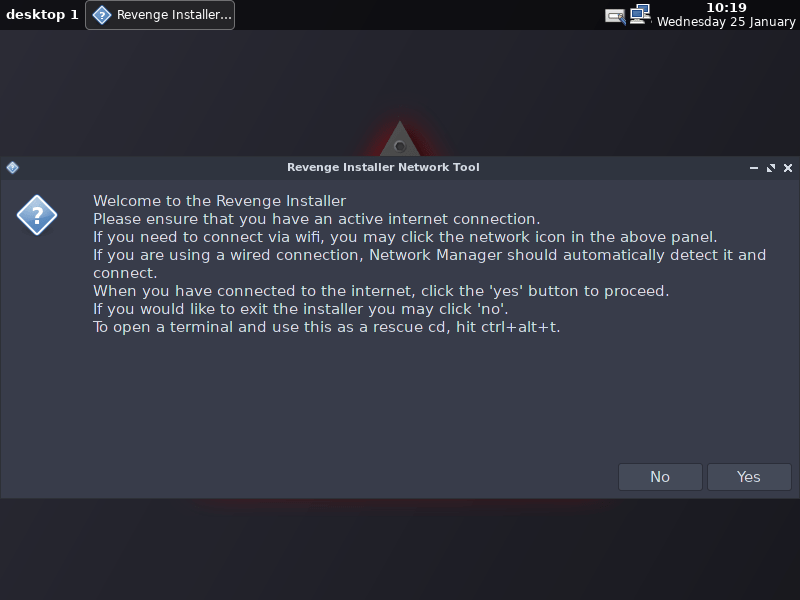 In the forthcoming wizards, you'll be prompted to answer a series of questions that will guide you through installing Arch Linux. Again click "Yes" to continue.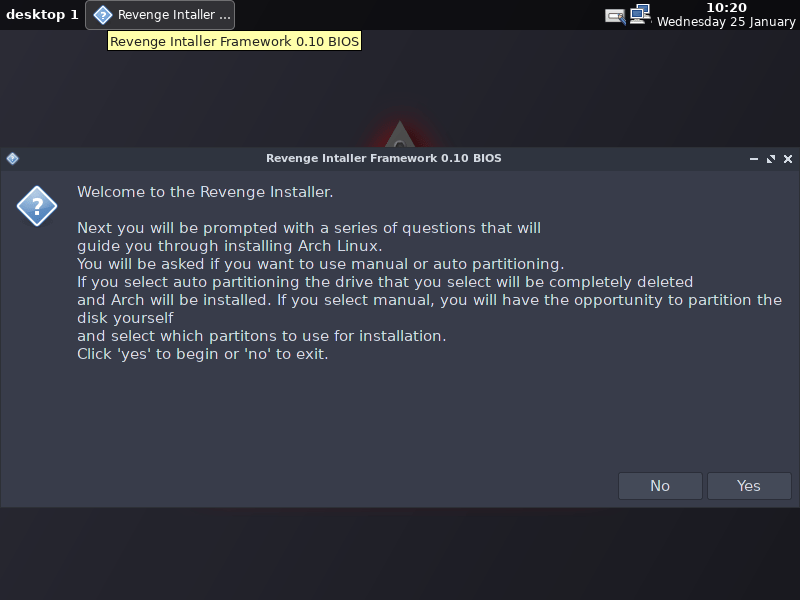 Now, you need to partition your hard drive. You can either choose "Automatic partitioning" or "Manual partitioning". If you choose, auto partitioning, your entire hard drive will be deleted and Arch Linux  will be installed. If you choose manual partitioning, you will have the opportunity to partition the disk as per your liking.
I will go with automatic partitioning.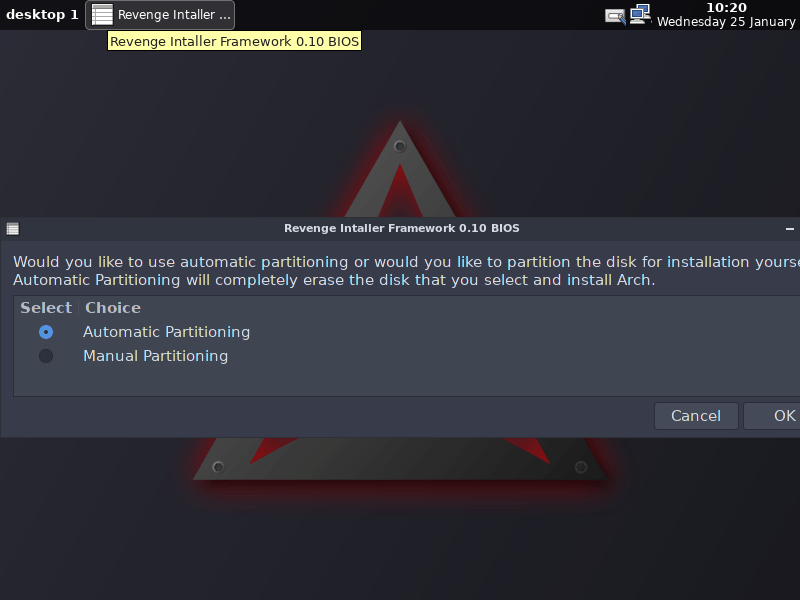 Next, the installer will show you the list of available hard drives. I have only one disk, so it showed it. Click "OK" to continue.
Choose the drive that you want to use for Arch Linux installation and click OK.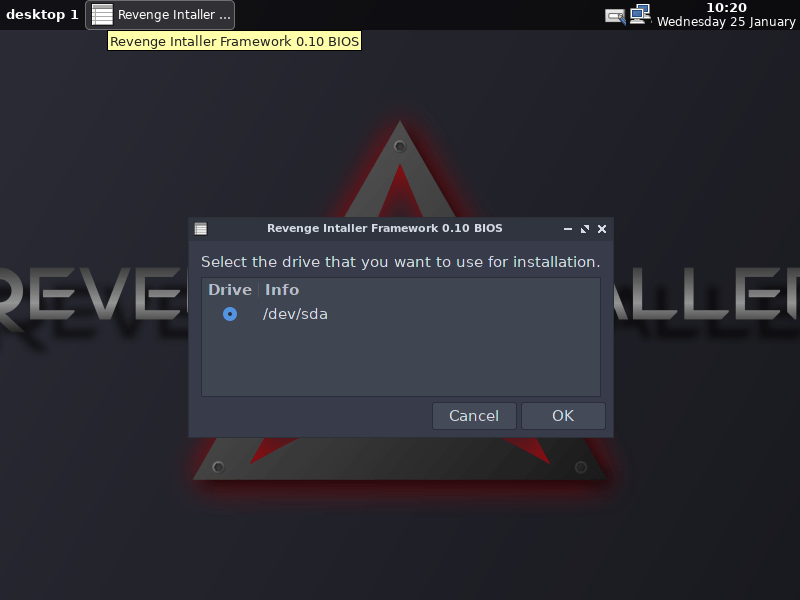 Click "Yes" to format the selected disk. Make sure you have selected the correct drive and click OK.
Select your locale/language:
Select your Keyboard layout:
Select your country/zone:
Select sub-zone:
Select UTC or localtime. If you don't use dualboot, UTC is just fine.
Enter your hostname:
Enter your username:
Enter password for root user:
Re-enter the password:
Enter password for the normal user:
Re-enter the user's password:
Select the Kernel you want to install.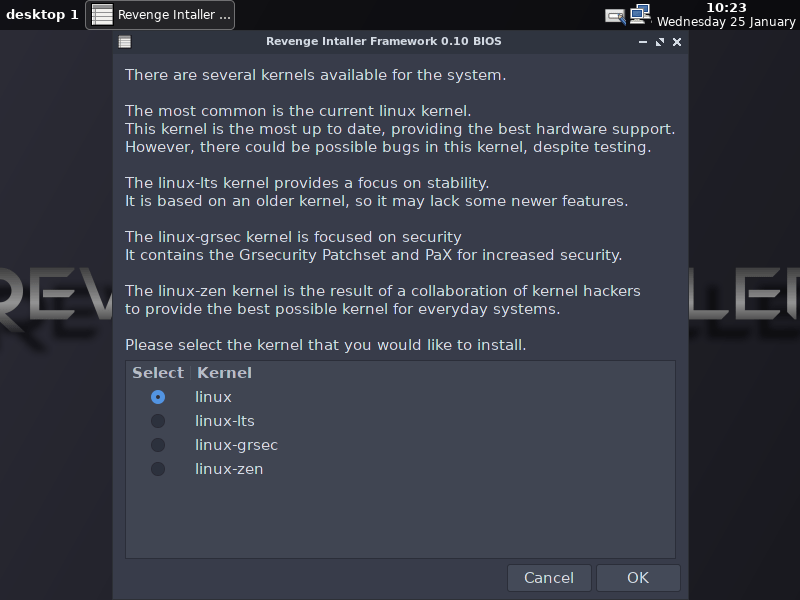 Since, I am testing Revenge installer in my Oracle VirtualBox, It asked me If I like to install VirtualBox utilities. If you're installing directly on your system, you would't see this message.
Next, you will be asked to install Yaourt too. Select Yes if you want to use AUR, or No if you don't.
Select Yes if you want to install support, or No if you don't.
Next, you will be asked what desktop would you like to install. I chose Cinnamon.
Now, you will have the opportunity to select more applications to install. Choose any category listed.
Select the applications that you want to install.
Similarly, Go through the each category and choose the applications you want to have in your Arch Linux. Once selected all applications, Click Finished in the category wizard.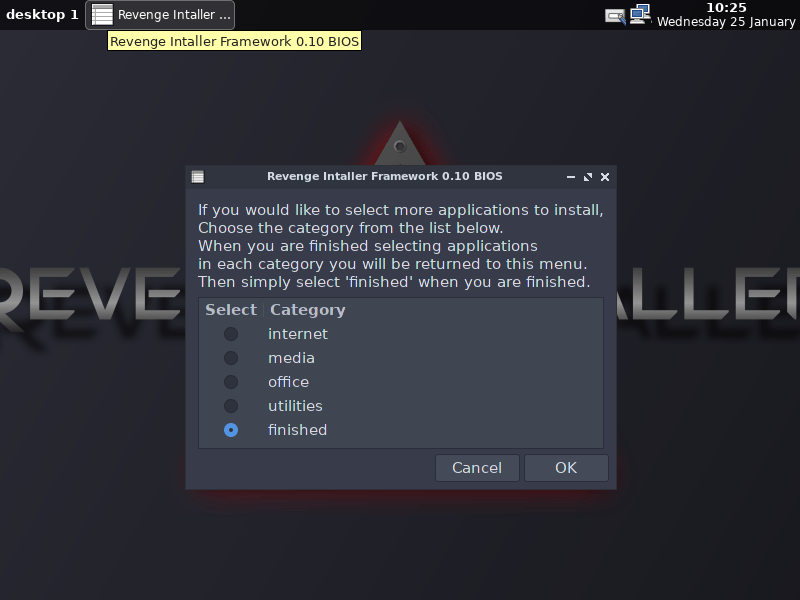 Select Yes to install bootloader.
Select the drive where do you want to install bootloader. If you have multiple drives on your system, the list of drives will be displayed. Choose carefully on which drive you want to install the bootloader. I have only one drive in my system, so the chose the listed one.
Finally, click Yes to start installing Arch LInux.
The installation will take while to complete. Sit back and grab a cup of coffee.
Congratulations! Arch Linux Installation is completed! Click OK.
And, remove the installation media from and click Restart to log in to newly installed Arch Linux system.
Here is my Arch Linux desktop with Cinnamon.
And, here is Chromium browser in action.
That's it. Arch Linux is ready to use.
Are you thinking to get your hands on Arch Linux? Great! Revenge installer is a good start. It is much easier than traditional Arch Linux installation method.
Resource:
Thanks for stopping by!
Help us to help you:
Have a Good day!!