A while ago, we have reviewed about a tool called "BG-Changer", which is used to set "NASA Picture of the day" as wallpaper in Ubuntu and its derivatives. Today, we are going to discuss about yet another desktop wallpaper manager. Meet WallpaperDownloader, a graphical Java-based application to download, manage and change wallpapers from the Internet. It is open source (GPL3) and totally free. It supports GNU/Linux, OS X and Windows.
Features
It has some nice features as listed below.
User can select keywords for matching desired wallpapers across different sources.
Currently, there are six providers implemented for searching.
Download wallpapers with certain resolution.
Download wallpaper every X minutes.
Change wallpaper every X minutes.
Install WallpaperChanger
On Arch Linux and derivatives, it is available in AUR. So, you can install it using AUR helper programs such as Paru or Yay.
$ paru -S wallpaperdownloader
Or,
$ yay -S wallpaperdownloader

On Ubuntu and its derivatives such as Linux Mint, you can install it using PPA.
$ sudo add-apt-repository ppa:eloy-garcia-pca/wallpaperdownloader

Update the software sources:
Finally, install WallpaperDownloader using command:
$ sudo apt install wallpaperdownloader
WallpaperDownloader is packaged in Flatpak and published in Flathub. To install WallpaperDownloader, run:
$ flatpak install flathub es.estoes.wallpaperDownloader
WallpaperDownloader is also available as snap package. Install Snapd as described here.
Then, install WallpaperDownloader using command:
$ sudo snap install wallpaperdownloader
For Ubuntu 16.04 LTS and higher versions, you need to install snapd-xdg-open package to allow WallpaperDownloader snap application to open some links in your browser.
$ sudo apt install snapd-xdg-open
If you want to install from source, you need to first install Java. Then, go to the Download page and get the latest available version. Once downloaded, go to the download directory and install it using command:
$ java -Dsun.java2d.xrender=f -Xmx256m -Xms128m -jar wallpaperdownloader.jar
Download, Manage And Change Desktop Wallpaper Using WallpaperDownloader In Linux
WallpaperDownloader works well with popular desktop environments such as Unity, GNOME Shell, KDE Plasma 5 version 5.8 or greater, MATE and XFCE.
Launch WallpaperDownloader using your application launcher. On MATE DE, it will be found under Menu -> Accessories -> WallpaperDownloader.
The default interface of WallpaperDownloader looks like below.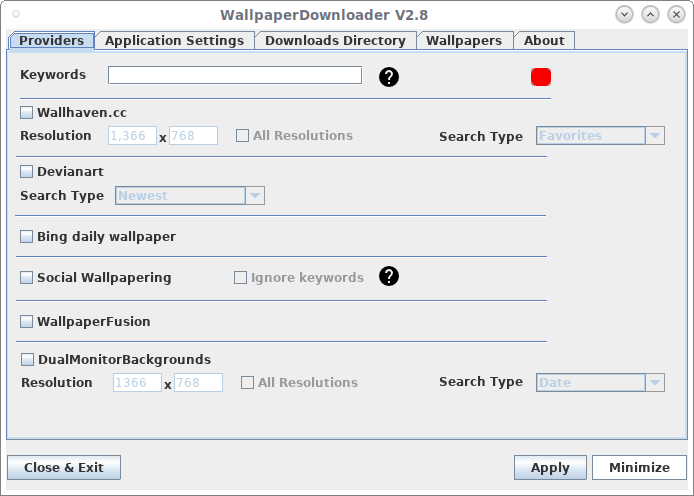 As you can see in the above screenshot, WallpaperDownloader can get your favorite wallpapers from different sources (Wallhaven.cc, Devianart, Bing etc). Just choose your preferred provider and hit "Apply" button to download the wallpapers. Also, you can choose resolution for the wallpapers before downloading them.
In the Application Settings section, you can set different parameters such as,
Download wallpapers every X minutes.
Maximum size for your download directory.
Change wallpaper every X minutes.
Set wallpaper changer location.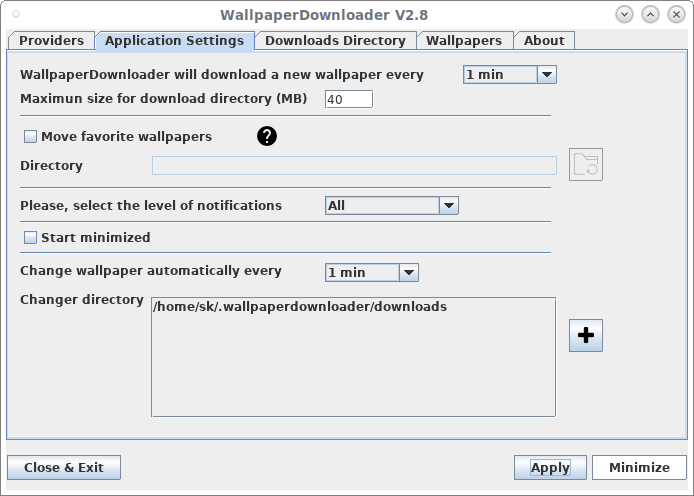 In Downloads Directory section, you can define the location of your preferred download location to keep the wallpapers.
In Wallpapers section, you can manage all your the downloaded images and also preview the selected wallpaper, delete the wallpaper, set the selected image as your desktop wallpaper, and so on.
Once you made all changes, click Apply button.
I must admit that I am really impressed about the quality of the images. Those wallpapers made my desktop more beautiful and gave it a pleasant look. This utility works perfectly well as it's advertised. Give it a try and let us know your thoughts about this application in the comment section below.
Resource: