AirDroid is a free, Android app that allows you to access, control and manage the Android devices from your Computer, and of course from a web browser wirelessly. It is one of the useful App and is being used widely in Android phones, and tablets. It has feature called AirMirror which allows to see and control the Android devices right from your desktop, using the mouse to tap buttons and keyboard to type. So that you can even respond and reply to WhatsApp messages without having to pickup your phone. The app is free to download and use for Android from Google Play, and it is available as a desktop client for Mac and Windows PC. Let us go ahead and learn how to Access and manage your Android device from Computer using AirDroid app.
Features
Using AirDroid, you can, almost, do all from your desktop or from a web browser as the way you do in your Android devices.
Here is the list of things that you can do with this Airdroid:
Copy or share files and folders between your Android devices and Computer,
Send and receive individual SMS or group messages,
View or edit contacts stored in your Android devices,
Take snapshots from the Camera,
Play and manage your audio and video,
Set ringtones and import/export ringtones,
Push URL and open it from your default browser,
Share Clipboard contents between your Android device and Computer,
Import, export and delete Android apps,
Take screenshots,
Locate and lock your Android devices,
You can even wipe the data of your Android device remotely when it's lost,
And a lot more.
Please note that some features requires root to use.
Access and manage your Android device from Computer using AirDroid
Airdroid is very friendly and much easier to use. Open Google play store and install it.
As I mentioned earlier, Airdroid needs Wifi. Both your Computer and Android should have connected wirelessly.
Open the app. The default interface should look like below on your Android device.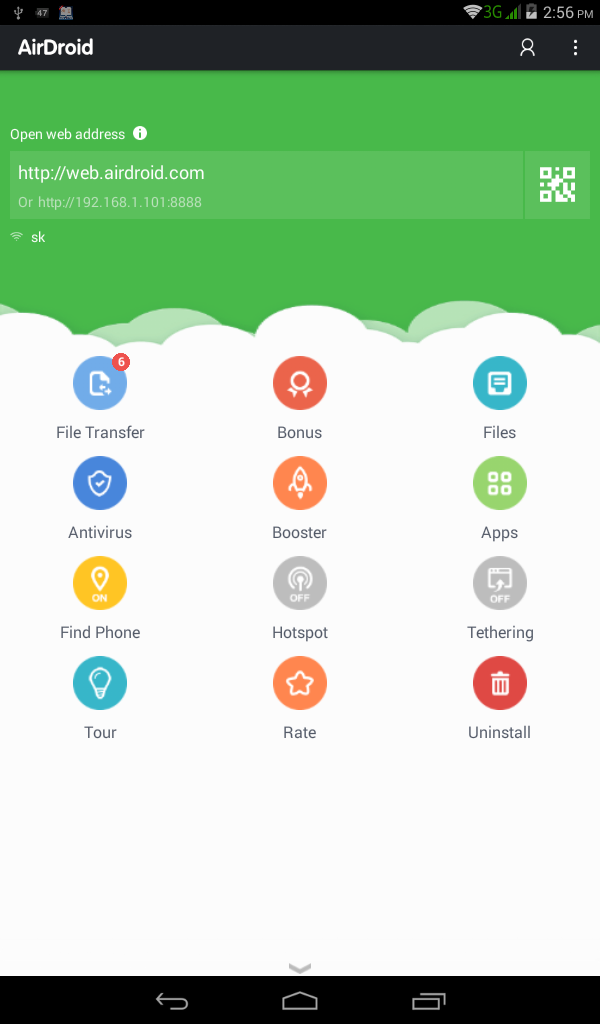 Now, go to your desktop, open the Web browser and type: http://web.airdroid.com or http://ip-address:8888
You'll be asked to authorize the app. Tap "Accept" on your Android device. That's it! start managing your Android devices.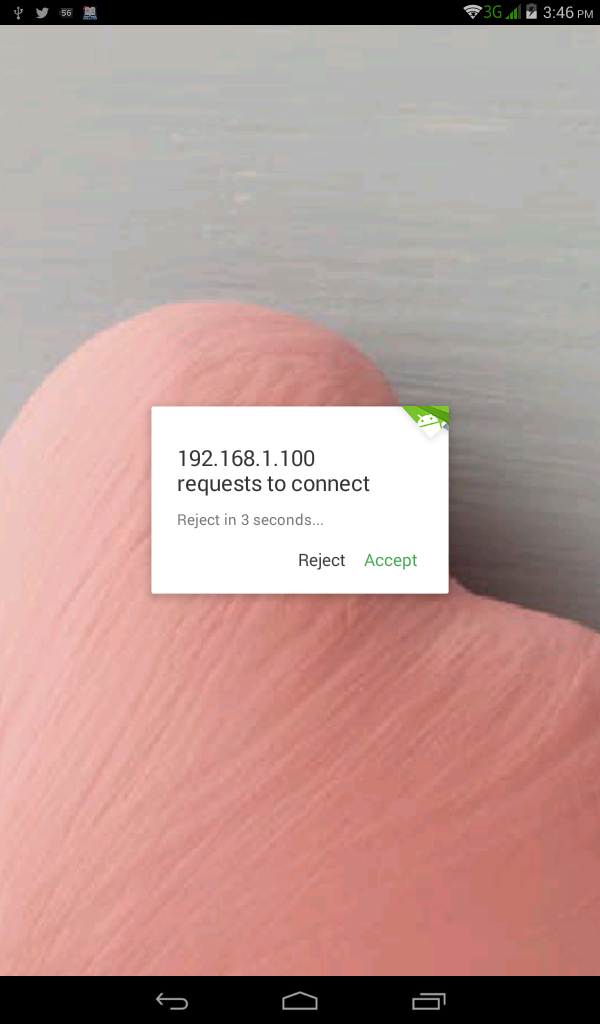 Here it is how AirDroid app dashboard looks like in my desktop's browser.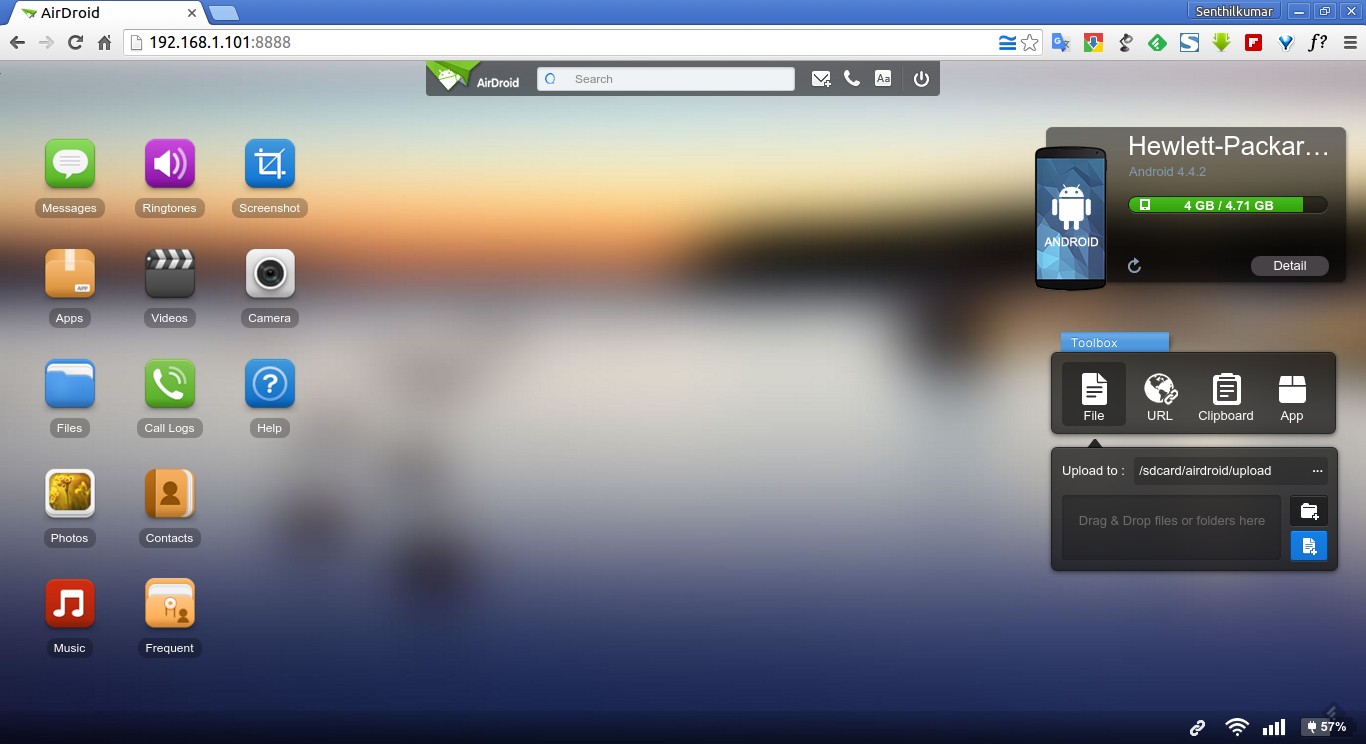 Let us see how to use it.
I need to transfer files between my computer and Android device, how can I do that? Simple, Click Files icon in the AirDroid dashboard. Now, you can browse the entire file system of your Android device from the Computer. Select any files or folders to download and click Download button. The selected files or folders will be downloaded to the default section, in the Downloads folder precisely.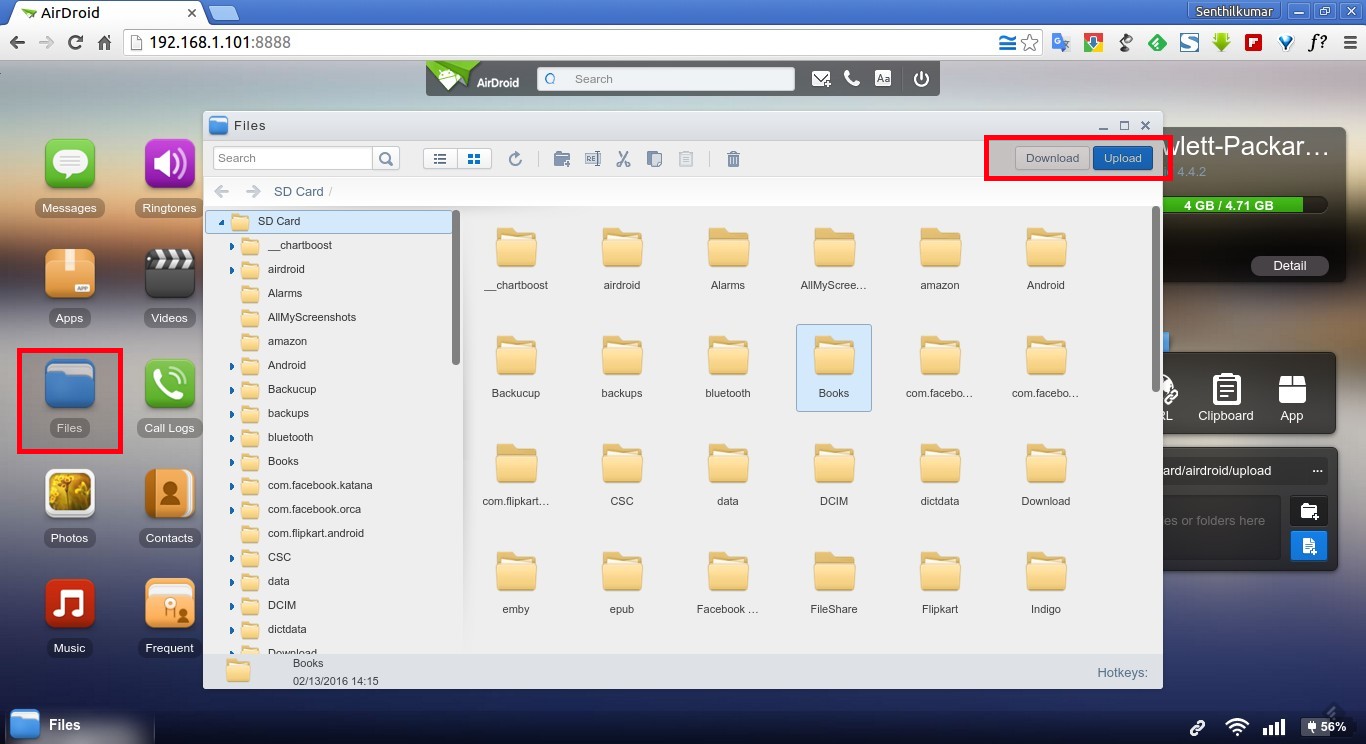 It's not just for transferring files, you can also upload, download, delete and set ringtones for your Android devices. You can even listen the ringtones before setting it.
To do so, click Ringtones in the Dashboard and export the ringtones you like.
Also, you can see through your Android phone camera and take screenshots. To do so, click Camera in the dashboard and start capturing photos.
Here is the sample screenshot that I took from my Android Tablet.
Adding contacts from your system is also possible. Click Contacts on the dashboard and browse your contacts. You can edit, delete and add new contacts without touching your Android phone.
Want to play videos and audios? That's possible too. Go to Videos or Music and start playing your media files.
You can do plenty of other things such as upload or download Android apps (apk files), SMS to your contacts, check your Android device details and view call logs etc.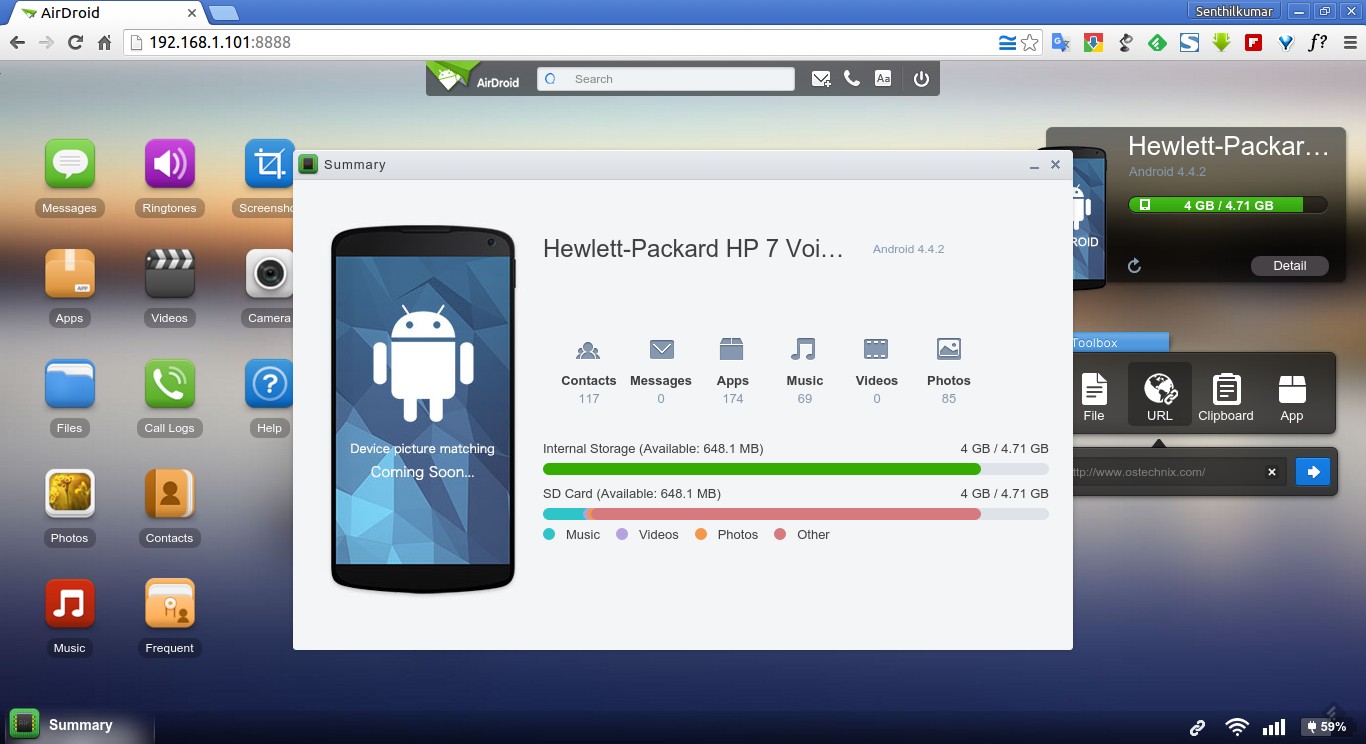 Want to open up a URL on the phone from the PC? That's possible too, and there is a clipboard for notes as well.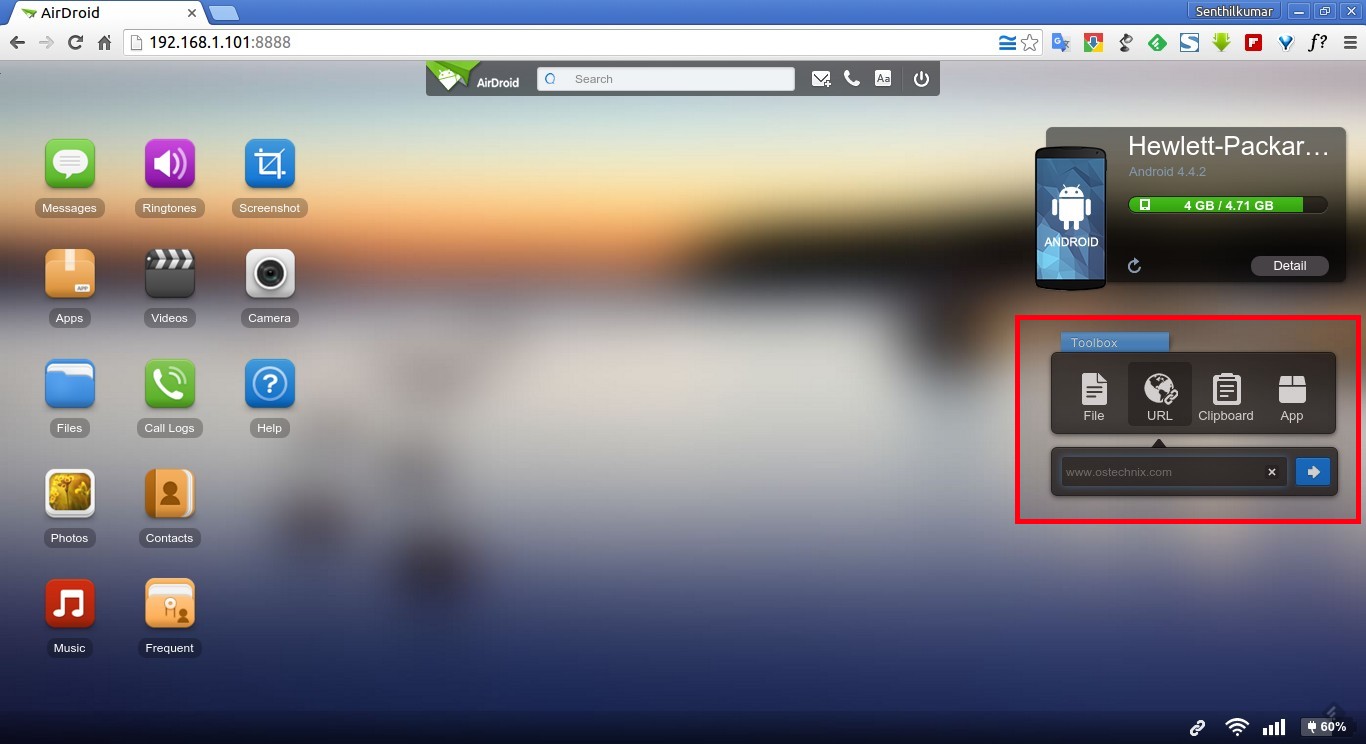 In the bottom right corner, you can see your device Wifi signal strength, remaining battery percentage etc.
Conclusion
To summing up, Airdroid is much useful application that anyone should have in their Android devices. You don't have to be a geeky nerd to use this app. It is much easier to use and manage your Android devices. If you want to view and use your Android devices in bigger screen, Airdroid is good to go. Give it a try, you won't be disappointed.
Thanks for stopping by!
Help us to help you:
Have a Good day!!