Duplicate photo files on your device accumulate in large numbers over time affecting your device speed and performance. These files generate due to data backup, file sharing and file download on your device. You can get rid of these photo files using manual cleaning option on your device. Though the manual cleaning is considered to be a cumbersome process and doesn't guarantee you whole clean device. To deal with this situation you can use duplicate photo remover tools for instant and accurate results.
One such tool is Duplicate Photos Fixer which offers best results to you. Let's discuss some of its unique features.
Features of Duplicate Photos Fixer
Select Scan type: At the home page of the app, you are asked to select scan type to find the duplicate images on your device. You can select camera images, select any specific folder on the device or you can select full scan mode. Once you have selected the scan mode next is to hit "Scan for Duplicates" button to initiate the scanning process.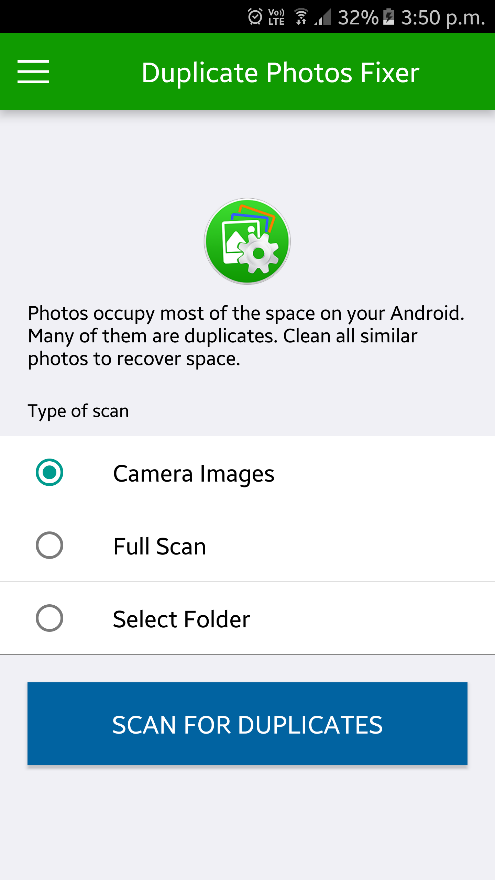 Scan in Process: Once you have press the "Scan for Duplicates" button it will immediately start the scanning process. Scanning time may vary according to data it needs to scan. Though the process is swift and accurate.
Scan Results: It displays results in an auto-mark format in groups. In auto-mark format, it marks all last file(s) of the group as duplicate and needs to be deleted. You can "Unmark All" files to select files manually or you can simply press "Delete" button to remove all similar files.
Clear Cache: You can find this option in the menu (three vertical dots in the upper-right corner). You can select this option to clear the cache of the existing searches by the app. Next time the app will initiate a whole new scan process to find similar files on your device.
Matching level: Find this option at Menu > Settings > Matching level. Using this feature you can set the matching level to find similar or exact looking files on your device. Matching level varies from low to high, where low level will find similar files on your device and the high level will help you find exact looking files on your device. Alternatively, you can set the default level to find duplicate files.
Preview: You can click on the files from scan results to see the preview of the file. This way you can better manage your photo library. You can directly delete the file from here by pressing delete icon in the upper right corner of the screen.
Languages: This app helps users around the world to de-duplicate their devices with the help of multiple language options. You can select your native language to perform tasks on this app. It offers all major language options.
The app uses advanced technology and smart algorithms to find and delete all similar and exact looking files on your device effortlessly. You can use its amazing features to de-duplicate your device in instant and accurate way.

Have you tried this app? Let us know about your thoughts in the comment section below.
Cheers!
Thanks for stopping by!
How can I benefit from this blog:
Have a Good day!!