This tutorial explains what is Endless OS, and its  versions and how to download and install Endless OS step by step with screenshots.
What is Endless OS?
Endless OS is a customized Linux distribution with modified GNOME desktop. Endless OS is mainly designed for novice users who have limited computer knowledge, and limited Internet connectivity.
Endless OS comes with all sorts of educational and entertainment stuffs. The look and interface of Endless OS is very simple, and elegant. Endless OS is developed and maintained by Endless Computers, Inc. based in San Francisco. California.
The main goal of Endless is to provide affordable and reasonable cost PCs and content to people regardless of where they live today.
Endless has also released two affordable desktop computers namely Endless One, and Endless mini that comes with preinstalled Endless OS.
Endless OS Versions
Until few months ago, Endless OS  is only available for Endless computers. Now, they released Endless OS for free to everyone.
Endless OS is available in two editions:
Lite Edition - that requires Internet connection to download and use apps from Endless app center. This basic edition comes with limited set of apps including an office suite, a browser, an email client, a photo viewer a media player and few more. This edition has the size of around 2 GB.
Full Edition - This edition comes with more than 100s of preinstalled apps and tools for business, maths, science, history, health, technology, puzzles, games, and more. In addition, You can even access over 50,000 articles from Wikipedia, video lessons, apps, Encyclopedia, Khan academy and other various resources with out Internet connection. The size of Endless OS full edition is around 16 GB.
Both editions are available in various languages, including English, Spanish, Portuguese, French, Arabic, Chinese and more.
Install Endless OS
Endless OS is completely free to use. Head over to the Endless OS download page and download the latest version.
Like I said, there are two editions - Lite edition with limited apps and requires Internet to install apps, and Full edition with over 100 of preinstalled apps. For the purpose of testing, I am going to try Lite edition.
Once you downloaded the version of your choice, create a bootable USB stick as described in the following link.
For those who wanted to test Endless OS in Oracle VirtualBox, convert the downloaded endless.img file to .vdi file and imported it to VirtualBox. Refer the following link to convert IMG file to VDI file and import it to virtualbox if you want to test Endless OS in the Oracle VirtualBox.
Once you imported it to the virtualbox as described in the above link, start the virtual machine.
Select your preferred language and click Next.
Select your keyboard layout and click Next.
Accept the license agreement.
Create a personal account and click Next.
Select your country location.
Finally, click "Start using Endless OS".
At first launch, Endless OS will welcome you with a video walk-through that explains what it is exactly, what can anyone do with Endless OS, and how to get familiar with it and so on. If you want to learn the basics of Endless OS click "Yes, I would" or click "Skip tutorial".
This is how Endless OS default desktop interface looks like.
As you see above, Endless OS desktop is tidy and organized with list of frequently used apps, such as web browser,  file manager, word processor, music player,  media player followed by games, social media apps etc.
Endless OS launcher on the lower left corner has only two items - Settings and feedback form for Endless OS.
The settings window contain the list of options to tweak and customize Endless OS, add and remove programs, configure various hardware devices, set date and time, managing users, and many.
The feedback option from the launcher can help you to give your feedback about Endless OS to the developers.
Endless OS has Chromium web browser by default to browse Internet. Since Endless OS is Ubuntu based you can install other browsers using apt-get package manager.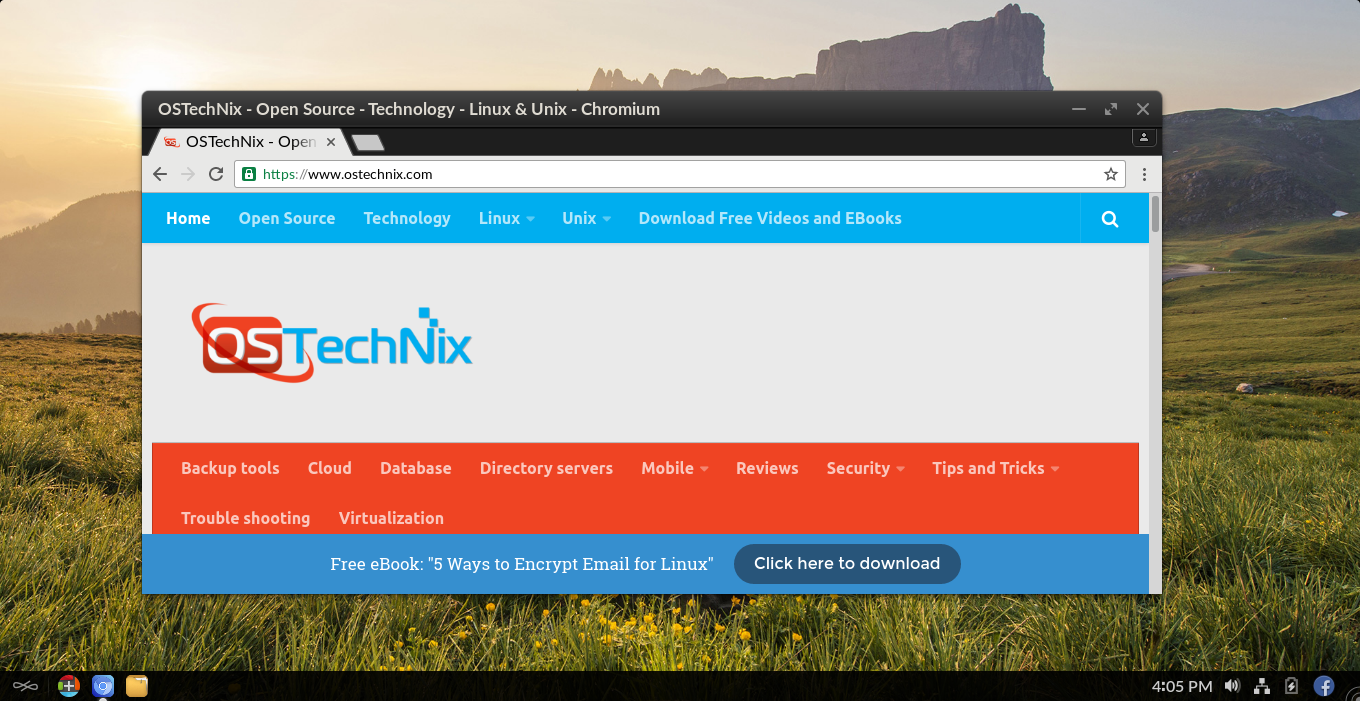 Endless OS comes with LibreOffice suite installed by default that allows you to do documentation works.
Nautilus file manager:
There is photo viewer app, audio, and media player to play back your media files.
Endless OS Lite edition comes with Duolingo app by default. The full edition has other useful educational apps such as Encyclopedia, Wikipedia and many. You can launch the educational apps either from the search box on the top or from Curiosity tab from the desktop.
What about social networks? Endless OS developers didn't forget that. They have included WhatsApp web app, Facebook to be connected with social networks.
The social networks app in the desktop includes Facebook, WhatsApp web app, an Email client to read and write mails, Gmail web service etc.
The Lite edition has almost all basic apps for your day to day activities. If you want to install additional apps, just click on the More apps icon on the desktop to launch Endless app center which has more than 100 applications.
The apps are organized in different categories such as featured apps (Editor's pick), Learning, Family, Sports, Reference & News, Multimedia, Work and other Utilities etc in Endless app center.
Just click on the category to view the available apps, select any app and hit the Install button. It's just like we install apps in our Android.
Once you the app installed, you can launch it from the desktop or use the search box to find and launch it.
Conclusion
During my testing session, I had some issues with 'apt-get' package manager. It doesn't work sometimes while I try to install any software from the Terminal or update the repositories. I don't know I am the only one who got this issue. Apart from this, Endless OS lite edition is pretty impressive and worked like a charm in my VirtualBox. As far as I tested, Endless OS is recommended for home users, students, schools, colleges and small offices for basic day to day activities.
Fore more details, refer official website.