FF Multi Converter is a GUI software used to convert audio, video, image and document files between all popular formats.
Features:
Converts to many popular formats
Easy interface
Access to common conversion options
Audio and Video presets management
Options for saving and renaming files
Recursive conversions
Supported formats:
[A] Audio & Video formats
aac, ac3, afc, aiff, amr, asf, au, avi, dvd, flac, flv, mka, mkv, mmf, mov, mp3, mp4, mpg, ogg, ogv, psp, rm, spx, vob, wav, webm, wma, wmv.
[B] Image formats
bmp, cgm, dpx, emf, eps, fpx, gif, jbig, jng, jpeg, mrsid, p7, pdf, picon, png, ppm, psd, rad, tga, tif, webp, xpm
[C] Document formats
doc -> odt, pdf
html -> odt
odp -> pdf, ppt
ods -> pdf
odt -> doc, html, pdf, rtf, sxw, txt, xml
ppt -> odp
rtf -> odt
sdw -> odt
sxw -> odt
txt -> odt
xls -> ods
xml -> doc, odt, pdf
Install FF Multi converter in Ubuntu / Linuxmint
Press CTRL+ALT+T to open Terminal and add its repository and install FF-Multiconverter.
sk@sk:~$ sudo add-apt-repository ppa:ffmulticonverter/stable
sk@sk:~$ sudo apt-get update
sk@sk:~$ sudo apt-get install ffmulticonverter
After installing, Open FF Multi convereter from Dash or Menu in your Ubuntu / Linux mint system.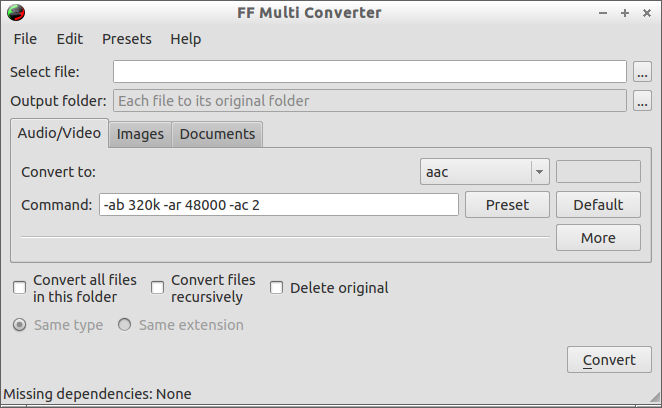 Convert Audio/Video
Select the  Audio/Video you want to convert. Choose the desired format and click convert. Also you can edit or select the presets from the "preset" tab.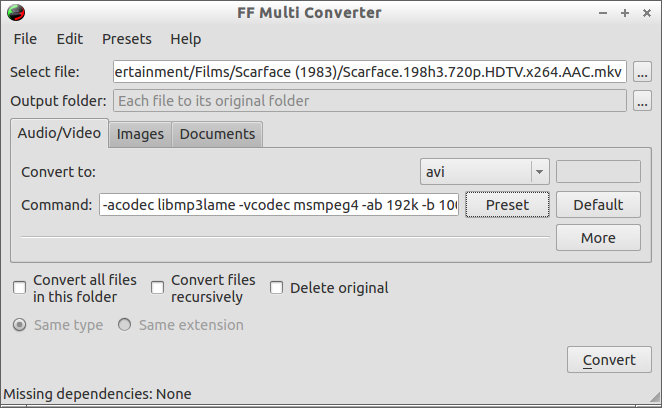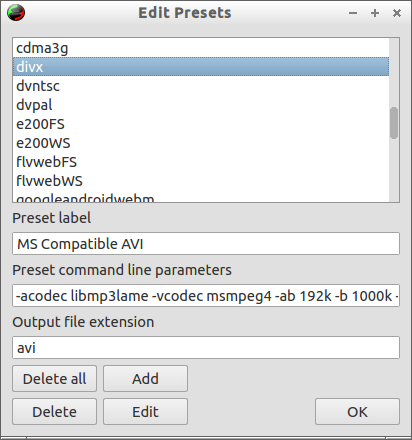 Convert Images
Select the images and select the output format to be converted and click convert.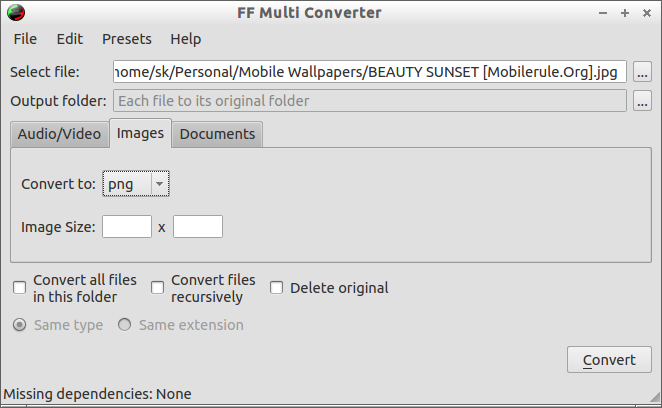 Convert Documents
Select the documents to converted and select the output format of documents and click convert.
Thats it. Have a good day!!!
Related Posts: