There is no doubt TeamViewer and LogMeIn are the most widely used tools to access a remote system's desktop from another Computer over Internet. Of course there are other popular remote desktop connection tools such as,
Ammyy Admin ;
Remote Utilities ;
UtlraVNC ;
AeroAdmin ;
RemotePC ;
Firnass ;
AnyDesk
Chrome Remote Desktop (Chrome browser extension) ;
And there are many.
Most of these applications are free for personal use, of course there are paid versions too, except LogMeIn. LogMeIn free version is no more, and all LogMeIn products were switched to premium version two years ago.
Probably, You might have tried all of the above utilities. Today, I am pleased to introduce yet another similar program called "Splashtop". It is easy to install and use remote desktop connection software. Using Splashtop, You can easily remote connect to a system within a Local Area Network or through a cross-network or Internet connection. In addition, Splashtop sessions are secured with SSL and 256-bit AES encryption, allowing it to serve as a secure pipe between devices, in some cases allowing users to eliminate their need for separate VPN solutions.
Using Splashtop, you can do the following:
Access and control a remote desktop pc from a local system ;
Stream audio/video across devices ;
Access all apps, files and folders of a remote PC ;
View and edit office documents, PDF files ;
View audio and video files ;
Browse through remote system's web browser ;
Play games ;
And more.
Like most remote desktop controlling software, Splashtop has two components, Splashtop Streamer which you install on the system you want to remote to, and Splashtop personal app which you install on the Mobile or Computer you'd like to remote from. In layman terms, Splashtop streamer should be installed in the client systems, whereas Splashtop personal app should be installed in the server systems where we're going to access and control the client systems. Splashtop personal app is free for most devices, however there is a nominal fee for iPad and iPhone devices.
Splashtop personal app is available for,
Windows XP, 7, 8, 10 ;
Windows phone ;
Mac OS X 10.7+ ;
iPad ;
iPhone ;
Android ;
Amazon kindle fire ;
Ubuntu 12.04 (beta).
And, Splashtop streamer is available for,
Windows XP, 7, 8, 10 ;
Mac OS X 10.7+ ;
Ubuntu 12.04 and Ubuntu 14.04 (Beta).
Check the following link for more details:
Splashtop is available as two versions:
Splashtop personal (free).
Splashtop business (paid).
Using Splashtop personal edition, you can remote to 5 systems maximum, whereas in business version you can remote up-to 10 computers per user with unlimited simultaneous connections.

For detailed comparison of Splashtop free and paid versions, check the following link:
Install Splashtop
For the purpose of this tutorial, we'll be using two systems:
Android tablet PC (Central server system);
Lubuntu 14.04 desktop (Remote system).
Here, we're going to access and control Ubuntu 14.04 desktop from an Android tablet.
Install Splashtop remote desktop app in Android
First install Splashtop remote desktop app from the Google play store in your Android device.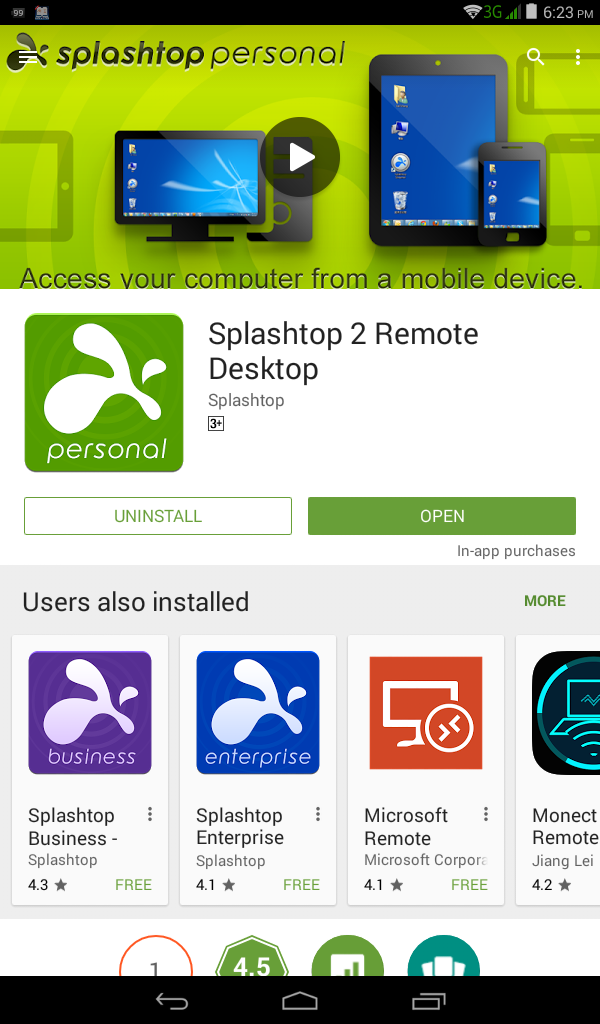 Install Splashtop streamer in Ubuntu 14.04 LTS
Now, install Splashtop streamer in the client system, Ubuntu 14.04 in our case. Splashtop is only available for Ubuntu 12.04 and 14.04 versions right now.
Go to Splashtop download section and download version depending upon the Ubuntu version you use.
After downloading the required version install it on your desktop as shown below.
sudo apt-get install gdebi
sudo gdebi Splashtop_Streamer_Ubuntu_14.04_v2.2.5.1-4_amd64.deb
Usage
Once you installed Splashtop personal app and Streamer on the respective devices, you can now able to access the remote system's desktop (Ubuntu in our of course).
In the Ubuntu system, open the Streamer application either from Unity or Menu.
Accept the license agreement.
Next, you need to create a Splashtop account if you haven't already. Click on the link that says: Don't have a Splashtop Account? Create one.
Enter a valid Email id and a password, and then click Create Account.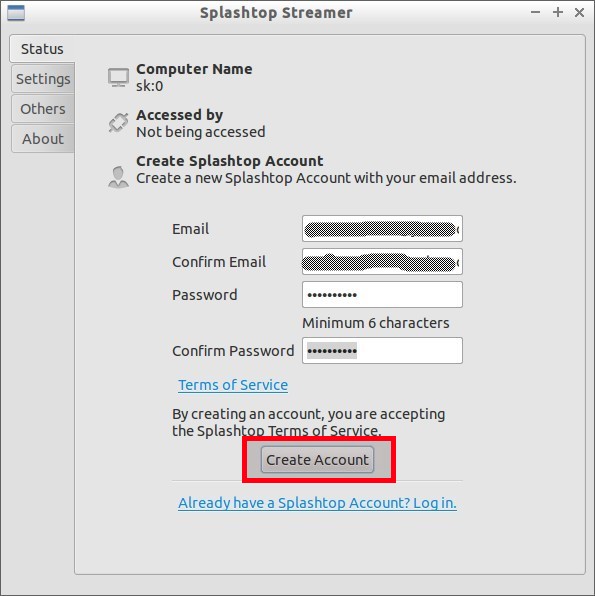 We have created Splashtop account, so let us log in using it. Click on the link that says: Already have a Splashtop account? Log in.
Enter the Email id and password which you have created earlier.
Congratulations! We have installed Splashtop streamer on Ubuntu 14.04 LTS and it's ready to use.
Once you installed Streamer on the client system (Ubuntu), go to the Server (In our case, it's Android) and open the Splashtop personal app.
The Splashtop remote desktop app default interface will look like below.
Enter the username and password of Splashtop account log in details. Remember we already have created an account earlier while installing Streamer app in the Ubuntu desktop. So, you don't have to create another one again. One user account is enough to connect two systems.
Enter the username and password:
Next, Splashtop will ask you to install Streamer application on the client systems. We already have installed it on Ubuntu desktop. So, let's just skip this step and Click GO.
Splashtop will automatically scan the network and find the client systems Splashtop streamer installed.
Just click on the client system to access it.
Click on Remote Desktop option.
In the next screen, Splashtop will show you the list of controls that can be used to navigate through your client system. Read those hints and get a clear idea about how to navigate your client system using the keys in the Android. For example, TAP will act as a left mouse click button. If you want to right click an item, select and Hold the item to open the right click context menu. Once you read all the instructions click Continue.
There you go. From now on, you can access and control your remote client.
As you can see in the below screenshot, I am accessing my Lubuntu desktop from my Android tab using Splashtop.
As you see there is a menu (vertical dotted lines) on the bottom right corner. This menu will provide you some additional controls.
Click on the each item to know what will they do.
Like I said, to select any item, just Tap on it. To right click on any item, just tap and hold, it will open the right context menu.
You can browse the Internet on the remote system.
Also, you can watch audio and video without any flickering as the way you do in the local system.
Conclusion
As far as I tested, Splashtop free version didn't disappoint me. It worked so good as It advertised. I left the remote connection ideally for hours and didn't do the anything, yet the connection was still alive and didn't disconnect. It automatically scales the remote desktop display to fit my screen and I could browse through my remote system files and folders without any problems. However, there are some limitations in the free version too. If you need full support, unlimited connections, want to connect from different networks, please go for the paid version. Since I don't have Windows and Mac devices, I can't assure Splashtop's performance on that devices, but It worked well on Android and Ubuntu.
Overall, Splashtop is good for remote desktop connection between your office and home computers. Give it a try and let us know what you think about it.
Resource:
Thanks for stopping by!
Help us to help you:
Have a Good day!!