Ubuntu 18.04 LTS, codenamed Bionic Beaver, final edition has been released and is available for download. This is the seventh LTS (long-term support) version from Canonical, the parent company of Ubuntu operating system. Since this is LTS version, the maintenance updates will be provided for 5 years (until April 2023) for Ubuntu Desktop, Ubuntu Server, Ubuntu Cloud, Ubuntu Core, and Ubuntu Kylin. All the remaining flavours will be supported for 3 years. Ubuntu 18.04 LTS ships with Linux Kernel 4.15 and plenty of new feature improvements, software updates, and bug fixes. This tutorial will walk you through installing Ubuntu 18.04 LTS desktop and server editions. First, let us see how to install the desktop edition.
---
If you're already running the older versions like Ubuntu 16.04 LTS or Ubuntu 17.10, refer the following guide to upgrade to Ubuntu 18.04 LTS without re-installing them from scratch.
---
Installing Ubuntu 18.04 LTS Desktop
Download Ubuntu 18.04 LTS image from here. Create a bootable usb drive using any one of the methods given below.
Boot your system with newly created bootable pen drive. You will be greeted with the following screen.
As you can see you have two options. You can either try latest Ubuntu 18.04 LTS without making any changes in your computer, directly from this cd. Or, you can hit the Install Ubuntu option to continue installing Ubuntu 18.04 LTS on your hard drive. I am going to install it, so I clicked Install Ubuntu option.
Choose your keyboard layout:
Now, choose the apps you like to install. The normal installation type will install all applications including web browser, office suite, games and media players. If you want to setup a full fledged desktop, choose normal installation. If you want only minimal system that has web browser and basic utilities, choose minimal installation.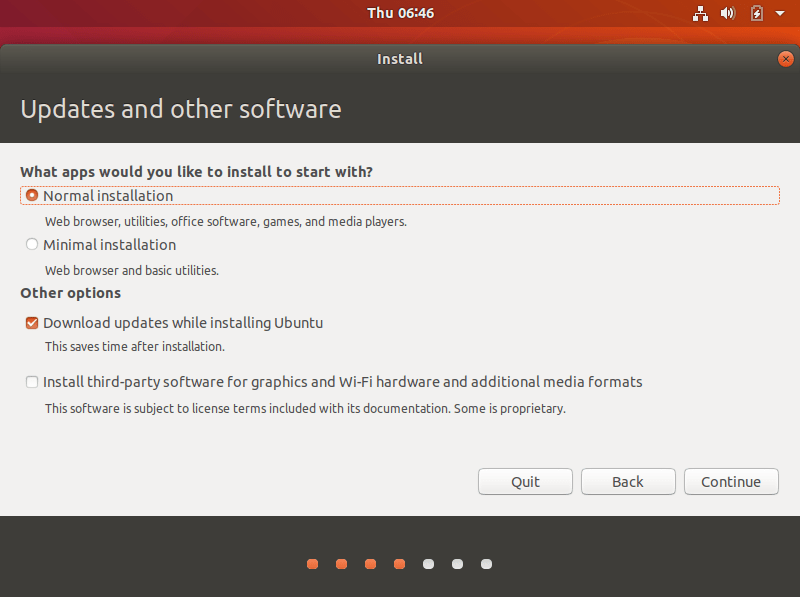 Next, choose the installation type. The installer will provide the following four options. You can choose which suits to you.
Erase disk and install Ubuntu - Choosing this option will delete everything in your system.
Encrypt the new installation for security - This option lets you to encrypt your Ubuntu system. You will need to choose a security key in the next wizard if you choose this option.
Use LVM with the new Ubuntu installation - If you want to resize, add, modify, take snapshot partitions, choose this option.
Something else - It allows you to manually partition the hard drive yourself. You can choose the custom size for each partition. It is opt for dual boot.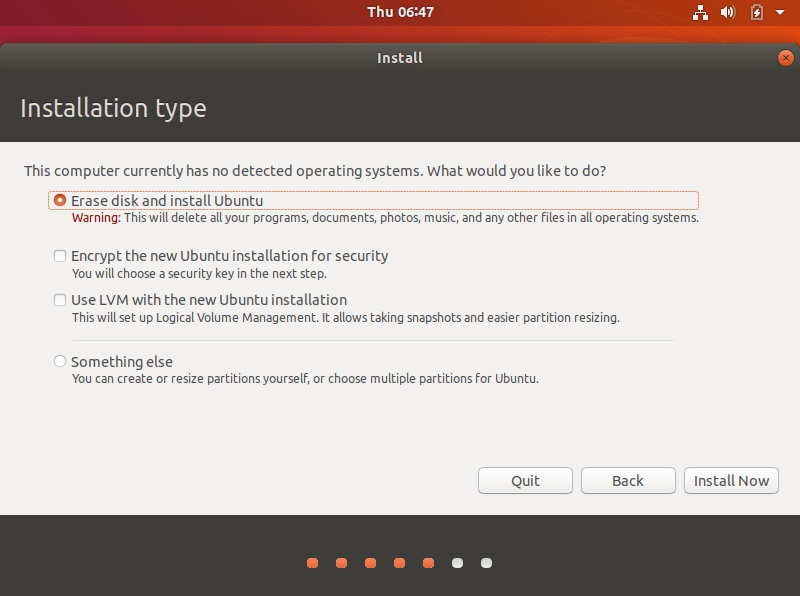 Choose your country  location: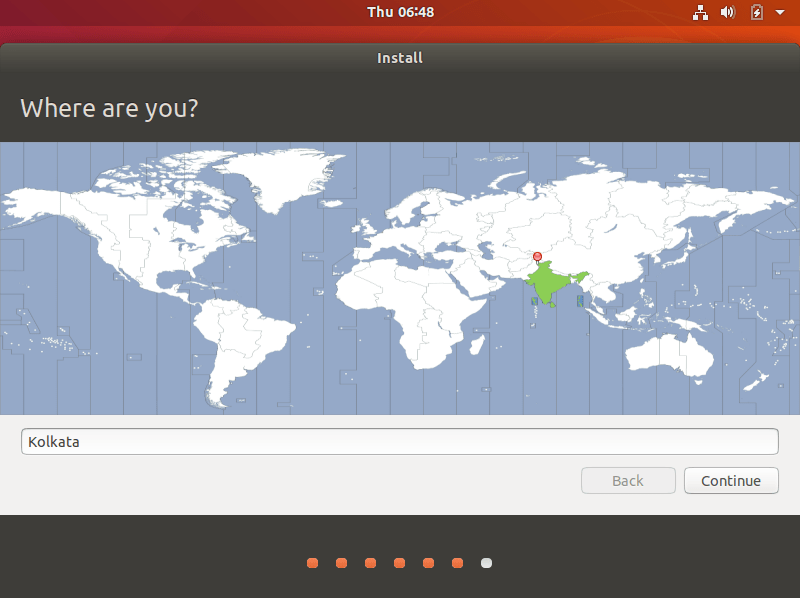 Enter your name, computer name, username and password to the username:
Now, Ubuntu installation will begin. Grab a cup of coffee. It will take a few minutes.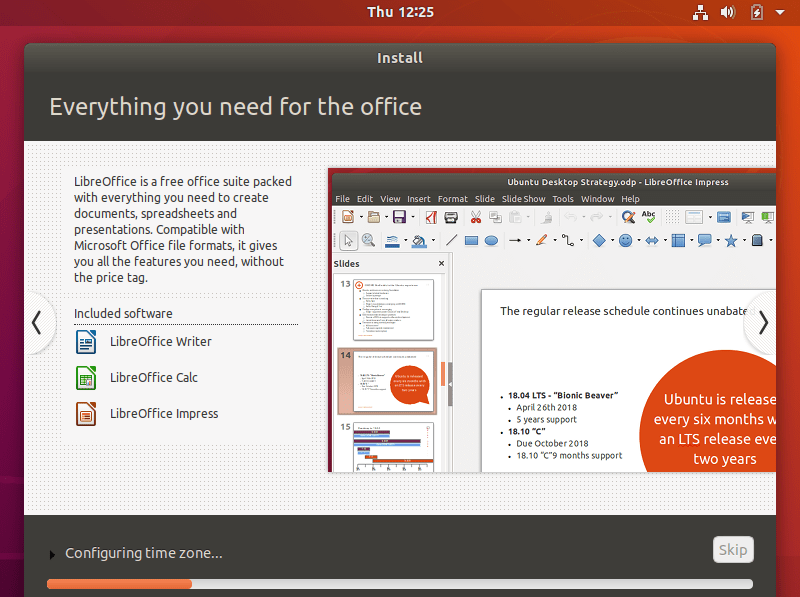 Once the installation is completed, remove the Ubuntu installation medium and click Restart Now to complete the installation.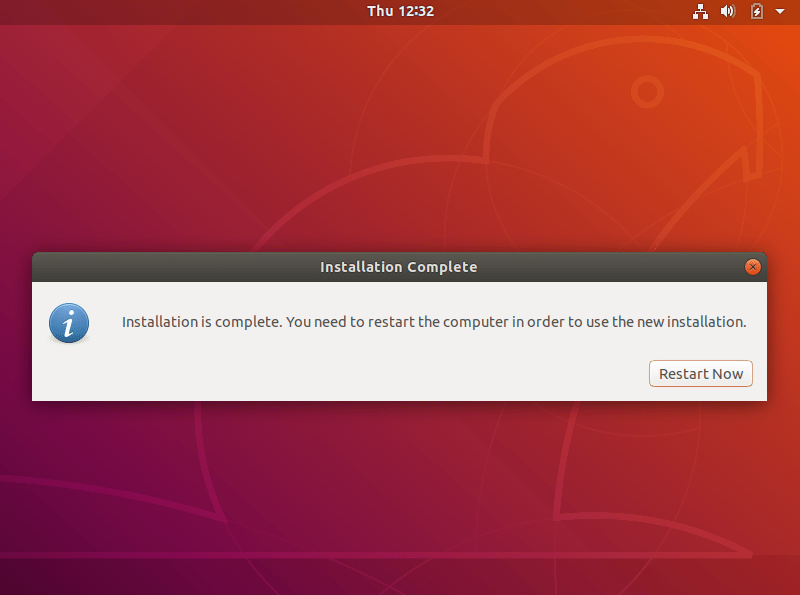 Click on the username and enter the password to log in to the newly installed Ubuntu 18.04 LTS desktop. You can also choose the graphics stack of your choice. Ubuntu 18.04 LTS ships with both the traditional Xorg graphics stack as well as the newer Wayland based stack, but Xorg is the default display server.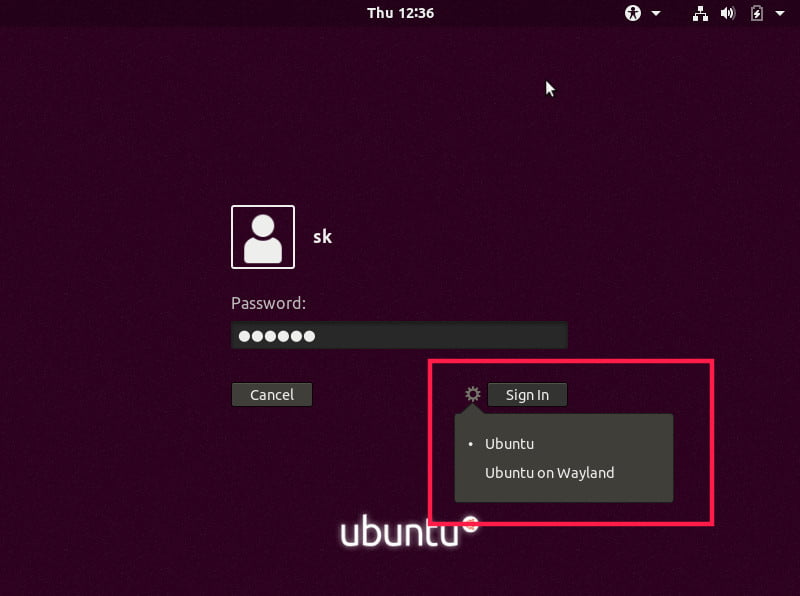 This is how Ubuntu 18.04 LTS default desktop looks like.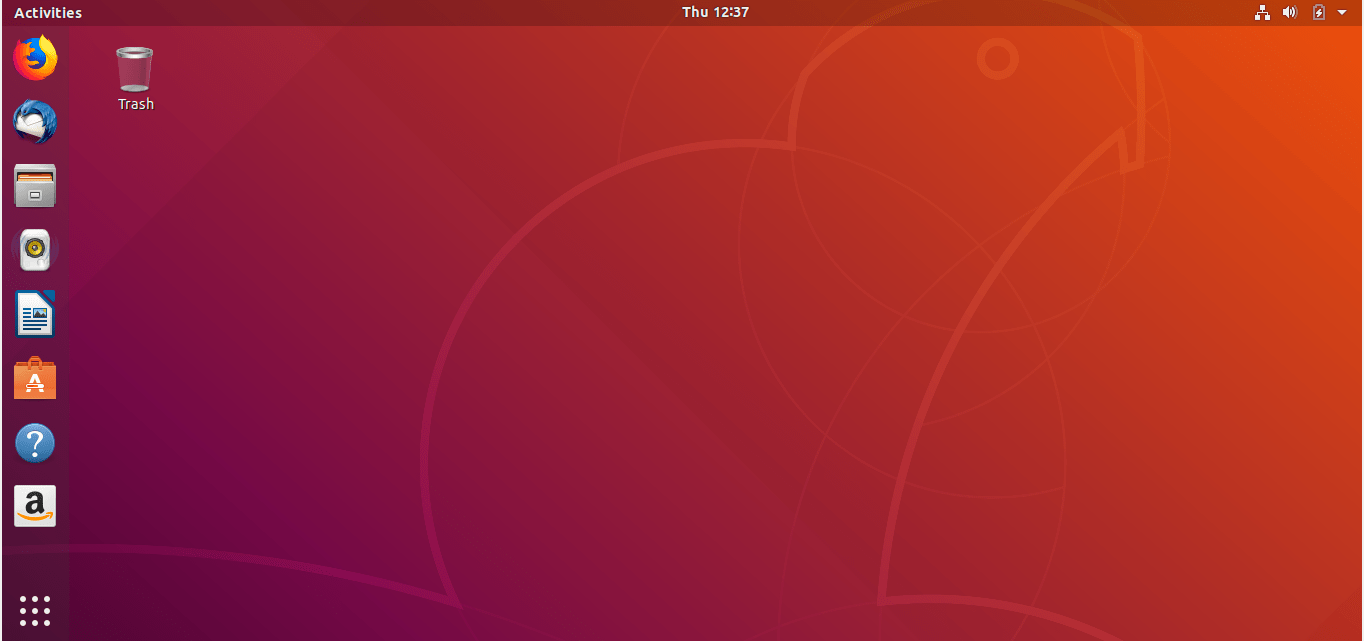 Next, Ubuntu 18.04 LTS short tour takes place. It will display what's new and what are the changes in Ubuntu 18.04. If you want to see what's in the new edition, just click Next. Or click the Close button.
One of the major feature in Ubuntu 18.04 LTS is Livepatch. It allows the users to apply the security updates that normally require restarting. To enable this feature, click "Set Up Livepatch".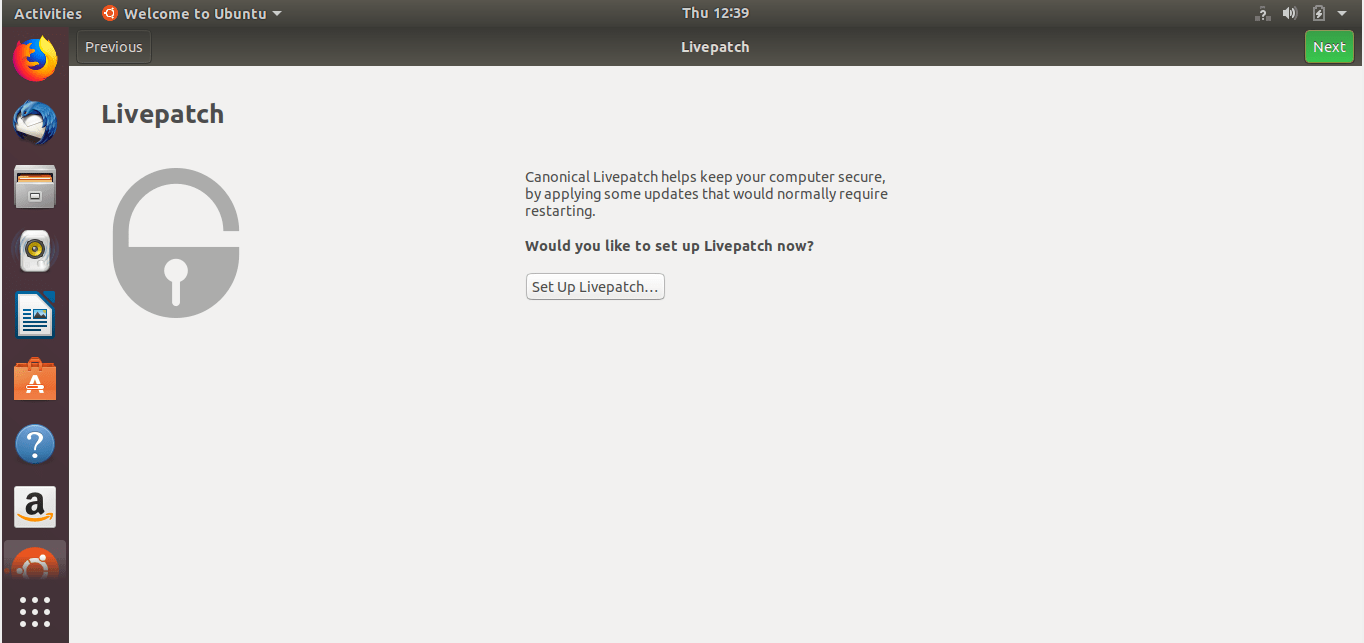 Enter your Ubuntu Single Sign-on username and password and click Connect.
Once you setup the Livepatch, you would see the following screen.

Congratulations! You're ready to use your newly installed Ubuntu desktop. Install applications of your choice and start using it.
Next, we will see how to install Ubuntu 18.04 server edition.
Installing Ubuntu 18.04 LTS Server
Download the Ubuntu 18.04 LTS server edition from here and make bootable USB drive as I already described in the Ubuntu desktop edition section.
Boot your system with the Ubuntu 18.04 bootable medium. You will be greeted with the following screen. Choose your preferred installation language and hit ENTER.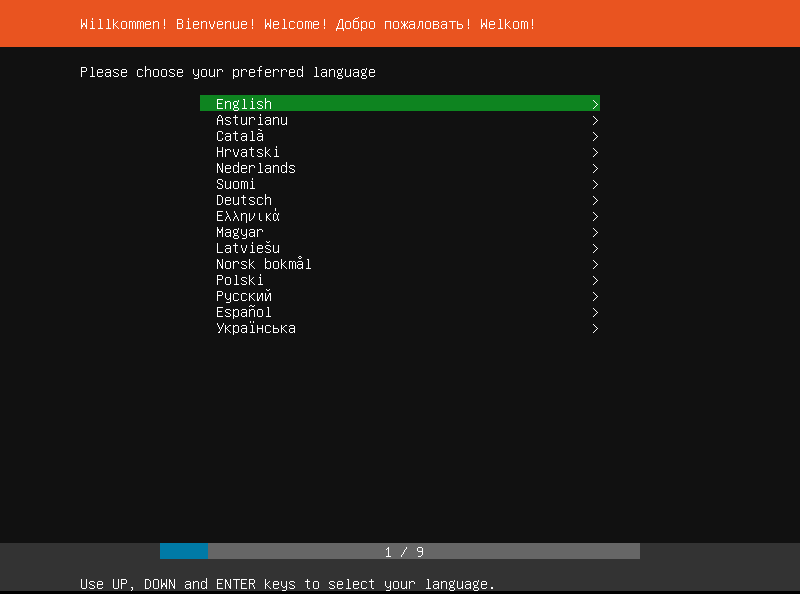 Select keyboard layout or simply click on "Indeitify Keyboard" to automatically detect your keyboard layout:
Choose "Install Ubuntu" and hit ENTER:
Next, configure at least one network interface this server can talk to other systems on the network and download updates from the Internet. If you have DHCP server on your network, IP address will be allocated automatically to all network interfaces.
If you're behind a proxy server, enter its details and hit ENTER. If you don't have one, leave the proxy field as blank and press ENTER to continue.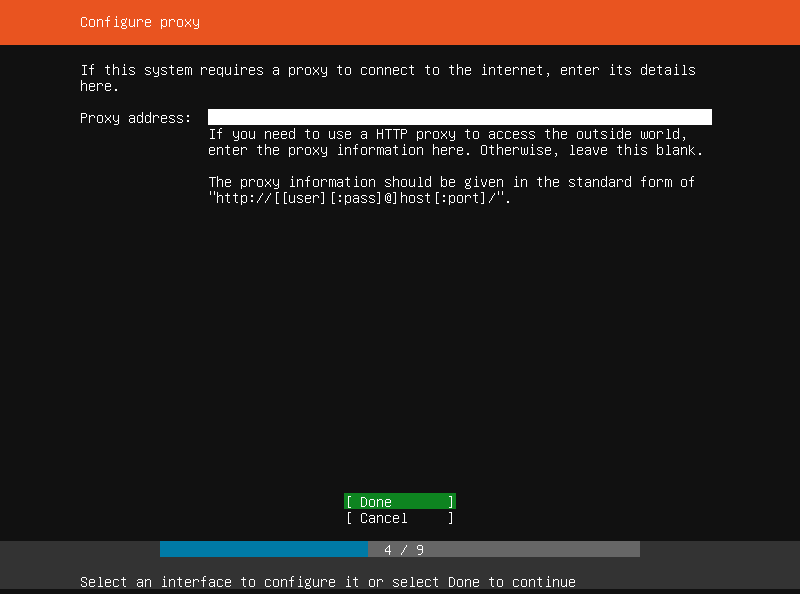 Next, you need to partition your hard drive. Choose any one of the given partition methods that suits to you.
Use entire disk : This method will erase entire hard drive and automatically partition the drive. Recommended for newbies.
Manual : This is for intermediate and advanced users to manually setup partitions of their choice.
Once you selected the partitioning method, select the hard drive you want to partition.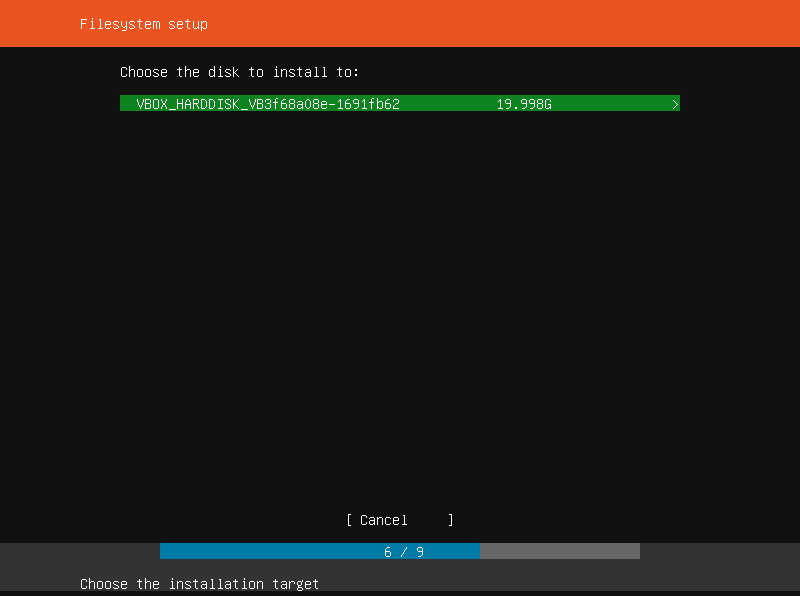 You will then see the partition summary depending upon the partition method you selected. If you OK with it, simply hit ENTER. Else, click Back button to go back and change the partition method.
The installer will ask you to setup a new user account for this system. Enter full name for the new user, hostname, username and its password (twice) etc. Make sure you have used a strong password.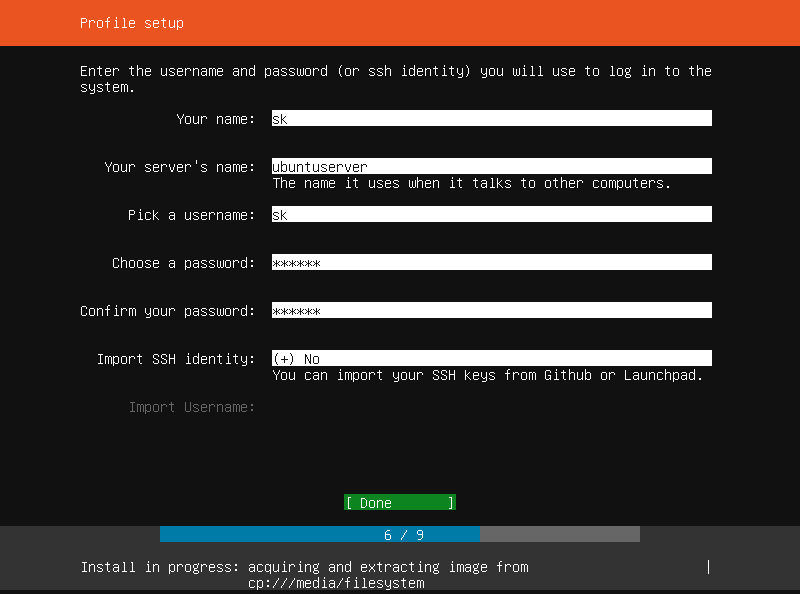 Now Ubuntu 18.04 LTS server installation process will start.
Once the installation is completed, remove the installation medium and choose "Reboot Now" and hit ENTER to reboot your system.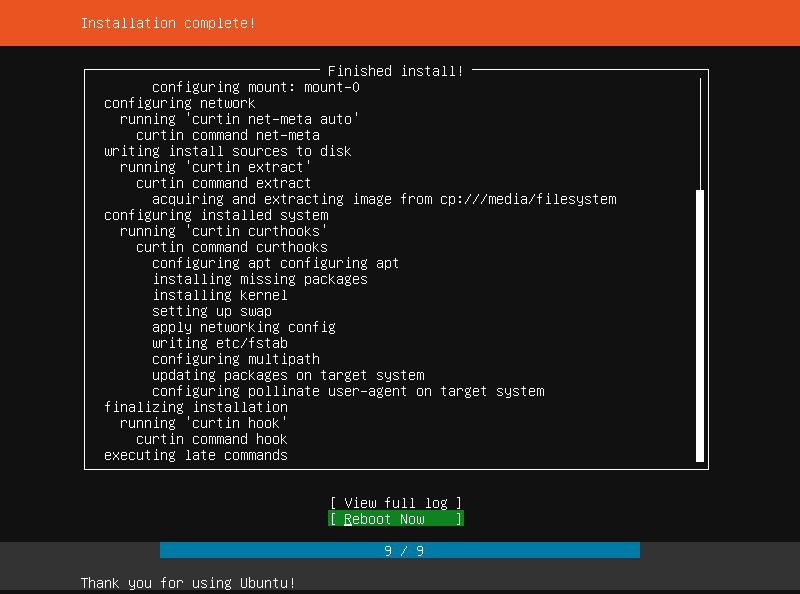 Congratulations! The Ubuntu 18.04 LTS server has been successfully installed and it is ready to use!!
And, that's all for now. As you can see, Ubuntu 18.04 LTS installation isn't that hard. The only place where you should be careful is at choosing partitioning the disk. The rest is easy and mostly self-explanatory.
Cheers!
Thanks for stopping by!
Help us to help you:
Have a Good day!!