Tox is a free, open source, end-to-end encrypted messenger that allows you to communicate securely with your family, friends, and colleagues. It is completely decentralized, peer-to-peer messenger without relying on any central server. The communication between you and your friend should always remain private and secure. Nobody knows whom you're communicating with, except the recipient of course. The idea behind the development of Tox was born when the NSA whistle bowler Edward Snowden's leaks of NSA spying activity. The Tox project has been started by single anonymous developer back in 2013, and now hundreds of active developers are contributing to this project.
Tox will not reveal your personal identity such as your name, IP address, or OS details etc., to any non-authorized users. It enforces end-to-end encryption on both sides while communicating with your friends. Since it is completely decentralized, your messages will not be stored in any central location. So, there won't be any data leakage on either sides.
Tox supports Linux, Windows, OSX, BSD, and Android operating systems right now, and of course the developers are working hard to extend this project to other platforms as well. Tox is completely free as in freedom, so that you can use, modify, and share it to others.
Features
Tox has many significant features such as:
Send and receive instant messages to and from friends ;
Make completely free and encrypted voice calls (Audio chat) ;
Communicate with face-to-face secure video calls (Video chat);
Share your desktop with others with Tox's screen sharing ;
Share unlimited files of any size to your friends ;
Group chat ;
Call any one in the group ;
Share files with group members ;
Install Tox clients on Linux
The following is a list of Tox clients available for various platforms.
qTox - A graphical user interface for Tox. It is available for Linux, Windows, OSX, BSD, and Android ;
uTox - A graphical user interface for Tox. It is available for  Linux, Windows, OSX, BSD, and Android ;
Ricin - A graphical user interface for Tox. It is available for Linux ;
Toxic - A Command line interface for Tox. It is available for Linux, OSX, and BSD ;
Antox - A graphical user interface for Tox. It is available for Android ;
Antidote - A graphical user interface for Tox. It is available for iOS.
For more details about Tox clients, refer this link.
At present, Tox supports most modern Linux operating systems such as Arch Linux, CentOS, Debian, Fedora, Gentoo, Mageia, openSUSE, and Ubuntu. For the purpose of this guide, I will be using qTox.
On Arch Linux, qTox is available in [Community] repository. make sure it is enabled and run the following command to install qTox:
$ sudo pacman -S qtox
On Fedora, enable RPMFusion repository, and install it using command:
$ sudo dnf install qtox
To install it in openSUSE 15.0 or newer, run:
On openSUSE 42.3:
$ sudo zypper ar -f https://download.opensuse.org/repositories/server:/messaging/openSUSE_Leap_42.3 server:messaging
$ sudo zypper in qtox
For distributions, such as Debian, Ubuntu and derivatives, you may need to manually compile and install it from source as described in the official installation page.
Usage
After installing Tox clients,  launch it either from the menu or Unity dash.
At first launch, you will be asked to create a new profile (Tox username and password).
Enter your preferred username and password, and click Create Profile.
Here it is how my qtox client window looks like.
Now, Invite your friends for chatting. You must know your friend Tox id to add him in your buddy list. The Tox id will be found in the user profile.
To access the user profile, click on the username icon on the top left corner.
Copy the Tox id and give it to your friend to connect with him.
Once you got your friend's Tox id, click the plus (+) sign in the bottom left corner, enter the Tox id, and finally click Send friend request.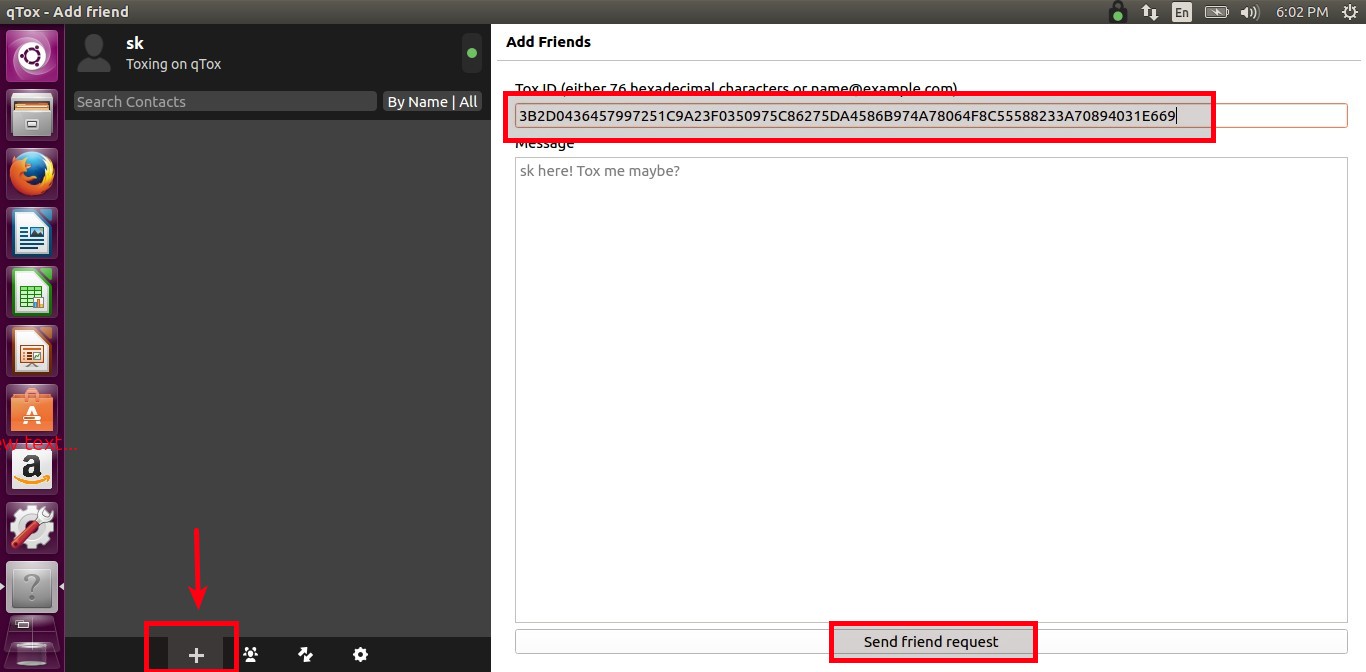 Once you send the request, ask your friend to accept the invitation. In your friend's system, the following friend request message will appear. Ask him to accept your request.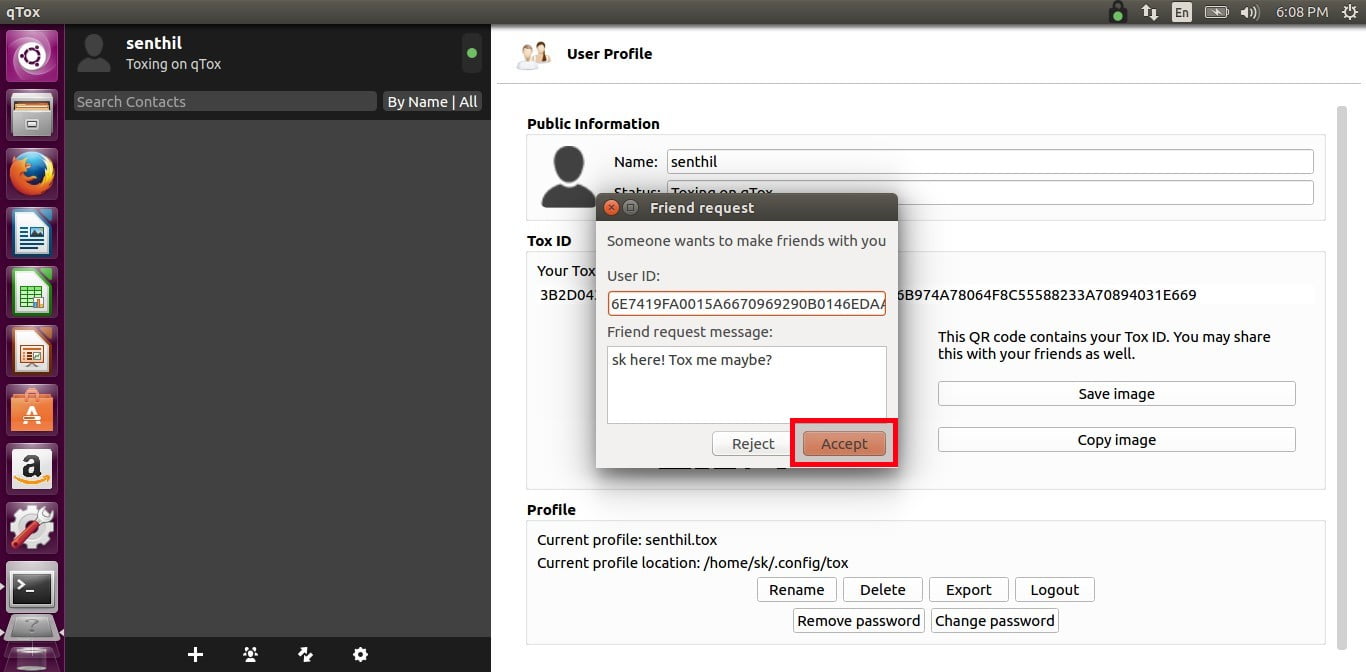 That's it. Now, start chatting with your friend.
Here is the sample conversation between two users - sk and senthil.
You can also, make audio and video calls, create groups chats, send and receive files and images to and from your recipients.
Conclusion
Tox is similar to Microsoft's Skype application. However, unlike skype, Tox doesn't rely on any central server. It is completely relies on encrypted peer-to-peer networking, also it is fast, secure and safe way to communicate with your friends and buddies.
That's all for now. I will be here with an another article soon. Until then, stay tuned with OSTechNix.
Cheers!
Links:
Thanks for stopping by!
Help us to help you:
Have a Good day!!